ASUS DR-950 ereader live shots released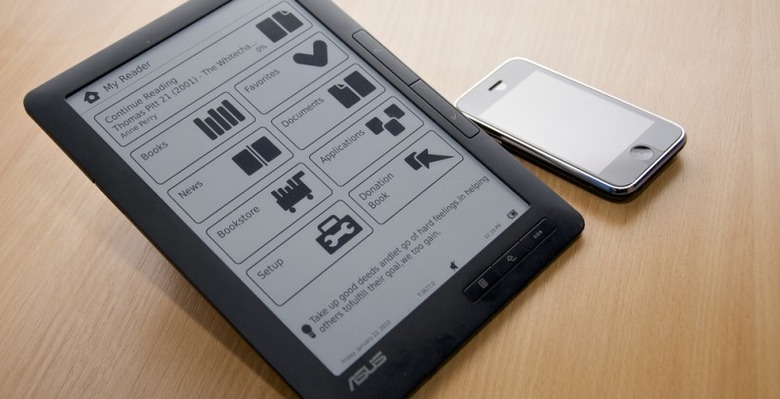 The ASUS DR-950 ereader isn't the DR-570 OLED-lovely we've been hearing about lately, but we won't turn our nose up at a 9-inch E Ink touchscreen and integrated WiFi and HSDPA.  So far it's yet to show up for playtime, but ASUS have released a few live images (including some comparison shots with the iPhone) just to prove it's more than a render.
The DR-950 has a 1024 x 768 resolution display, supporting PDF, ePub and HTML files among others, and offers text-to-speech and RSS.  There's also 2-4GB of onboard storage – with an SD card slot to augment that – together with a USB port and 3.5mm headphone jack, and ASUS aren't ruling out squeezing WiMAX into the 0.35-inch thick frame.
We're not quite so ready as Electricpig to declare the touchscreen layer interference-free, and will want to have a closer look (at a real unit, not press shots) to figure out whether it blurs the E Ink panel or not.  Still, it's another interesting looking ereader; let's just hope the Apple iPad doesn't sweep the bottom out of the segment next Wednesday.
[via Electricpig]