ASUS confirm T91 US release on July 15th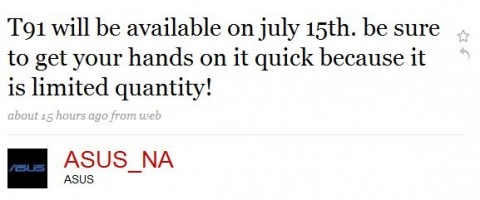 Twitter is great, but we do prefer more mainstream routes for much-anticipated news like the release date of the Eee PC T91 touchscreen netbook.  Still, after the in-stock/not-in-stock flip-flopping of retailers, we'll welcome anything concrete from ASUS themselves, even if it's a two-sentence tweet telling us that the 8.9-inch netbook will arrive in the US on July 15th.
Less reassuring is the news that it will be "limited quantity", with no indication of whether this is a temporary situation or an ongoing issue.  Considering the level of interest in the T91, it seems likely that stock will be in short-supply for some time.
The ASUS Eee PC T91 is the company's first touchscreen convertible netbook, with an 8.9-inch resistive display, Intel Atom Z520 1.33GHz processor and an unusual storage pairing of a 16GB SSD and an included 16GB SD card.  It's expected to retail at around $499 in the US, while European buyers will apparently get a choice of three models: the basic unit, one with GPS, digital TV and integrated 3G, and a final version running Windows 7 and supporting multitouch.  The T91's larger, 10-inch sibling – the ASUS Eee PC T101H – was officially detailed yesterday.
[via UMPC Portal]