ASUS Bamboo U33 and U53 notebooks pack Core i5 and NVIDIA Optimus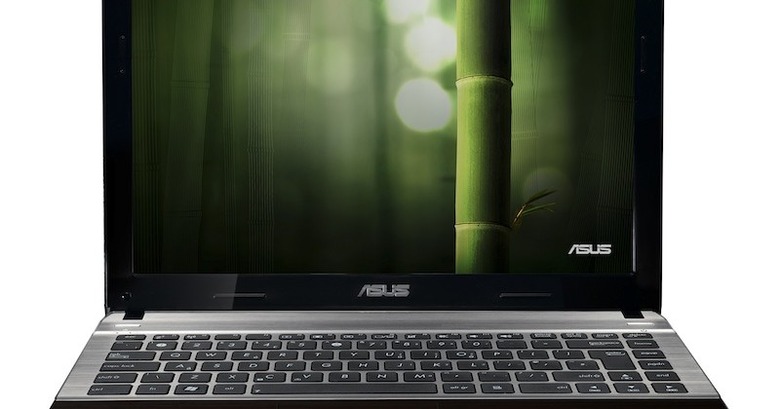 ASUS UK have outed a pair of new notebooks in their Bamboo series, with the U33 and U53 both clad in a mixture of brushed aluminum and "smoky-brown" bamboo.  The 13.3-inch U33 and 15.6-inch U53 each get an Intel Core i5-430M processor paired with NVIDIA Optimus graphics, automatically switching between a GeForce 310M 1GB GPU and integrated Intel GMA 4500MHD graphics.
Ports include a USB 3.0, two USB 2.0, HDMI and VGA, along with ethernet and audio in/out.  There's also a DVD burner and a 640GB hard-drive on the U53 or a 500GB hard-drive on the U33.  Each gets 4GB of DDR3 memory together with a 2-megapixel webcam and Windows 7 Home Premium 64-bit.
Battery life is up to 10hrs, though that's assuming you make judicious use of the integrated graphics.  Both Bamboo Series notebooks are available now, priced from £849 ($1,297) for the U33 and from £899 ($1,373) for the U53.
Press Release:
ASUS Bamboo Series Notebooks: Inspired by Nature. Designed for Style.

ASUS have today announced the UK launch of the U33/U53 Bamboo notebook series.

Green living is an ideal. An aspiration. Above all, a choice. As part of ASUS' continued innovation in the area of environmental sustainability, the new U33/U53 Bamboo Series is manufactured using environmentally- friendly bamboo. Delightfully slim and light, and stylish thanks to the incorporation of brushed aluminium, the Bamboo notebook boasts a smoky- brown bamboo exterior reminiscent of contemporary designer furniture, bearing natural patterns that are unique to each notebook and providing individuality in a green-inspired product.

Combining this stunning bamboo exterior, modern technologies and eco- friendly credentials, the U33/U53 bamboo notebook range is as much for the green consumer as it is for the performance-demanding style icons.

Super Hybrid Engine and NVIDIA Optimus use intelligent monitoring to keep energy levels efficient and reduce CO2 emissions, whilst USB 3.0 delivers the fastest transfer speeds. With the new Intel® CoreTM i5 processor the U33/U53 notebooks deliver superior performance with up to 10 hours battery life.

The notebooks will be available from a range of retailers and e-tailers including Micro Anvika, Selfridges, PCWorld.co.uk, Ebuyer.com and Amazon.co.uk at a price of £849 and £899 inc VAT SRP.

To watch the promotional video of the Bamboo Series please visit: http://www.youtube.com/asus

Key Features:

􏰀 Stylish bamboo exterior and packaging 􏰀 13.3" (U33) or 15.6" (U53) HD Color-Shine LED backlit 1366 x 768 􏰀 Intel® CoreTM i5-430M processor (3MB cache, 2.26GHz) 􏰀 Microsoft Windows 7 Home Premium 64-bit 􏰀 NVIDIA Optimus auto-switching graphics 􏰀 ASUS Super Hybrid Engine 􏰀 USB 3.0 􏰀 Seamless chiclet keyboard 􏰀 2.0M Web camera with on/off slider 􏰀 2 year global collect and return warranty

Bamboo materials deliver an eco-friendly yet stylish innovation:

The U33/U53 Bamboo notebooks deliver a high-quality harmony of style, practicality and environmentally-friendliness – making it a perfect no- compromise computing solution for image-conscious users who want to look good whilst playing their part in saving the planet.

The notebook exterior is encased in a natural smoky bamboo material – reducing traditional plastic use by around 15% and exuding organic appeal through both appearance and touch. Even the outer packaging is stylishly green; the wrapped gift box made from 100% recyclable bamboo materials provides a thoughtful finishing touch.

Bamboo is perhaps the perfect renewable source of wood material. Compared with traditional wood sources, it has a much faster re-growth period (reaching maturity in 4 years), doesn't need re-planting and has higher levels of CO2 absorption – making it ideal to harvest without damaging the environment. What's more – aside from its ultra-green properties, bamboo is incredibly hardwearing; so the U33/U53 notebook is more than gorgeous and green, it's also a highly robust and practical choice too.

The U33/U53 Bamboo notebook also boasts a stunning seamless chiclet keyboard with fingerprint-resistant brushed aluminium surfacing to eliminate those unsightly smudges.

Stay energy efficient and reduce C02 emissions with Super Hybrid Engine and NVIDIA Optimus technology:

Whilst bamboo materials keep the U33/U53 notebook green on the outside, a host of innovative features inside keep the technology energy efficient whilst maintaining a high level of performance when users need it most.

ASUS Super Hybrid Engine technology automatically manages power levels to ensure that users have high performance when they need it most (such as when watching videos or playing games) yet don't waste much-needed battery life when enjoying less power-hungry applications such as email or word-processing. The innovative technology not only boosts performance by up to 11% but can extend battery life to twice that of competitor models – giving users up to 10 hours of entertainment between charges.

Super Hybrid Engine also helps to reduce the CO2 emissions of both notebook models – the U53 can reduce emissions by 18.43Kg whilst the U33 by 22.24Kg as compared with that stipulated by the ErP standard.

Also squeezed into the efficient bamboo package is NVIDIA Optimus – a clever technology which quietly monitors which programs are being used and automatically switches between high performance discrete graphics (for movies, games and other graphic-intense programs) or low performance on-board graphics for everything else. Traditionally users would need to do this manually, rebooting applications before the change took effect – but with the U33/U53 bamboo notebook, NVIDIA Optimus takes the hassle and complication out and makes this intelligent concept available to even novice computer users.

Contact Information:

Press enquiries: Danielle Schofield, Tru PR t: +44 (0) 845 833 8292 e: asus@tru-pr.co.uk www.tru-pr.co.uk

Sales enquiries: ASUS Sales Team t: +44 (0) 1442 202720 www.asus.co.uk www.youtube.com/asus www.twitter.com/asusuk

A member of

*Specifications are subject to change without prior notice. Please visit www.asus.co.uk for more information.

USB 3.0 cuts the waiting around with super-fast transfer speeds:

The U33/U53 Bamboo notebooks integrate the cutting-edge USB 3.0 technology. Over 10x faster than previous USB 2.0 standards and delivering super-fast transfer speeds to benefit users, USB 3.0 connections take only 70 seconds to transfer a 25GB Blu-ray movie and reduce iPhone charging times by 45% – so users can spend less time waiting around and more time having fun.

Specifications – U53Jc

Intel® CoreTM i5-430M processor (3MB cache, 2.26GHz) 15.6" HD Color-Shine LED backlit 1366 x 768

NVIDIA Optimus technology with NVIDIA GeForce 310M DDR3 1GB & Intel GMA 4500MHD graphics

4GB DDR3 1066 MHz 640GB SATA hard drive (5400 rpm) DVD Super-Multi Combo 2.0M Webcam 1 x USB 3.0 + 2 x USB 2.0 1 x VGA port/1 x RJ45/2 x audio jack/HDMI port 6-cell 2.2Ah/ 8-cell 2.2Ah/8-cell 2.8Ah Dimensions: 386 x 257 x 31.6-33.09mm /2.76kg with 6-cell battery Microsoft Windows 7 Home Premium 64-bit

Specifications – U33Jc

Intel® CoreTM i5-430M processor (3MB cache, 2.26GHz) 13.3" HD Color-Shine LED backlit 1366 x 768

NVIDIA Optimus technology with NVIDIA GeForce 310M DDR3 1GB & Intel GMA 4500MHD graphics

4GB DDR3 1066 MHz 500GB SATA hard drive (5400 rpm) 2.0M Webcam 1 x USB 3.0 + 2 x USB 2.0 1 x VGA port/1 x RJ45/2 x audio jacks/HDMI port 6-cell 2.2Ah/ 8-cell 2.2Ah/8-cell 2.8Ah Dimensions: 328 x 232 x 14-32 mm/1.7kg with 6-cell battery Microsoft Windows 7 Home Premium 64-bit