ASUS axing all 8.9-inch Eee PC netbooks in 2009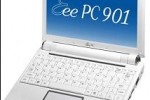 According to the latest reports coming out of ASUS, the company is planning to completely phase out its 8.9-inch Eee PC range in 2009.  Benson Lin, president of Asustek's Asia-Pacific division, told reporters this week that the Eee PC range will continue with two size variants, 10-inches and 7-inches.
That's because, Lin suggests, 10-inch netbooks are becoming the common, mainstream specification in the market.  ASUS expect 10-inch Eee PCs to account for 95-percent of all their netbook sales in 2009, with the remaining 5-percent being 7-inch models generally made for telecom service operators.
ASUS have previously suggested that 10-inch netbooks would be their focus from this point forward, but the complete cessation of 8.9-inch models is a new development.  It would also seem to indicate a change in direction for the company, which had been accused of flooding the netbook market with dozens of models all with very minor differentiation; it could be that now that ASUS have observed which Eee PCs sell best, they're tailoring their production to fit those trends.
[via UMPC Fever]