ASUS 1080p-capable Ion Eee Box 1501 caught in wild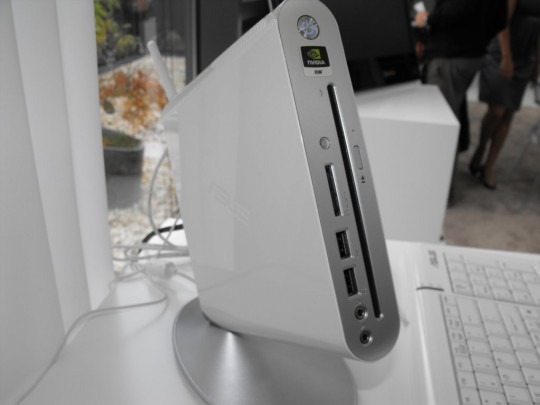 ASUS' Eee Box range arguably came of age when the company announced the 1501, their first NVIDIA Ion based model.  Packing a DVD drive and various video output options, we've been waiting to see when it might show up in the wild; that question has been answered by the guys at Newgadgets.de, who grabbed some live shots of the Eee Box 1501 at a press conference in Munich.
First impressions of the Eee Box 1501 are in short supply – in fact Newgadgets.de only go so far as to say that yes, this is it – but from the photos the build quality looks reasonable and the styling appealing.  It could all get to be something of a wire-mess if you take advantage of the front-mounted ports, but considering most of the time they'll be used for temporary digital camera and USB stick purposes we guess that won't be too much of an issue.
Inside there's Intel's dual core Atom 330 CPU and NVIDIA's Ion chipset, for 1080p High Definition output via HDMI, together with up to 4GB of RAM and a 250GB hard-drive.  As well as WiFi b/g/n there's eSATA and gigabit ethernet.  Still no word on a launch date, but it's expected to cost from €399 ($581).