Aston Martin Vanquish S boosts power, style & eye-watering price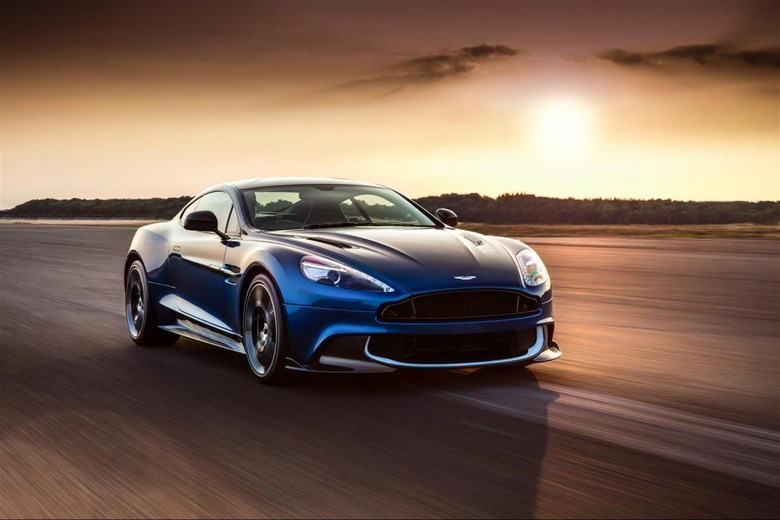 As good ideas go, taking what's acknowledged as one of the most beautiful Super GT cars and making it more powerful, even better looking, and more refined can't really be argued with. Figure us to be fans of the new Aston Martin Vanquish S, then, freshly announced for the LA Auto Show this week. It now musters up to 592 HP, and the British automaker promises that power will be delivered more smoothly and promptly than before.
The naturally-aspirated 6.0-liter V12 engine stays, unsurprisingly, but gets a polish for the "S" specification. That boosts maximum power from 573 PS to 600 PS, while a revamped intake system refines the throttle response. It's paired with recalibrated transmission settings, so that the 8-speed gearbox swaps cogs faster when you're pushing hard, but more smoothly when you're at lower speeds.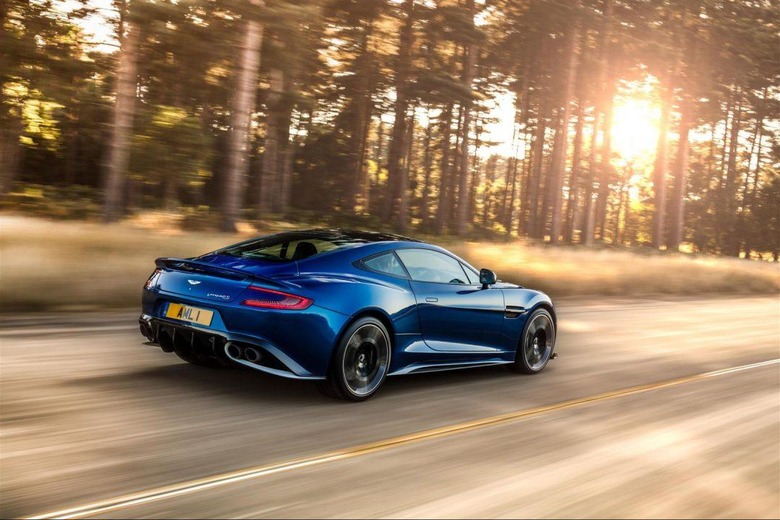 Maximum torque is 465 lb-ft., arriving at 5,500 rpm. Top speed is 201 mph, Aston Martin says, while 0-62 mph comes in 3.5 seconds; there's a launch control option for making speedy getaways. As for slowing, the brakes – 398 mm up front, with six-piston calipers, and 360 mm at the rear, with four-piston calipers – get ventilated disks and hydraulic braking assist.
They're not the only changes, mind. The suspension, damper internals, spring rates, and anti-roll bar bushes have been sent back to the engineers to be reworked, with the result being a claimed "keener edge" when the suspension is in its more aggressive modes. That's apparently without impacting more comfort-oriented settings.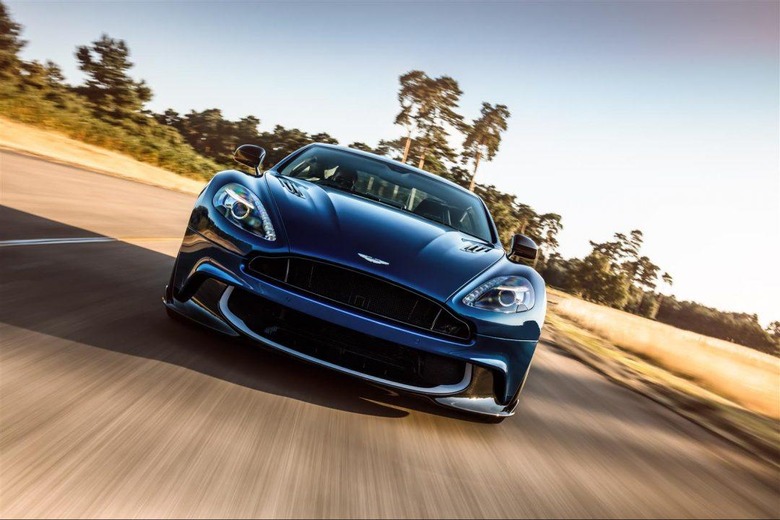 Though you might not be able to see those changes, there are visible tweaks too. The new aero package uses unpainted carbon fiber, with a new front splitter and rear diffuser. They don't just revamp the look, either, helping to cut front lift too.
At the back there are new quad-exhaust outlets, while Aston Martin has a long list of possible options to choose from if you want to go even further. That includes hood louvres – also made of carbon fiber – and 5-spoke, forged diamond-turned wheels. You can also have painted graphics like stripes added, and there are a range of 20-inch wheels too.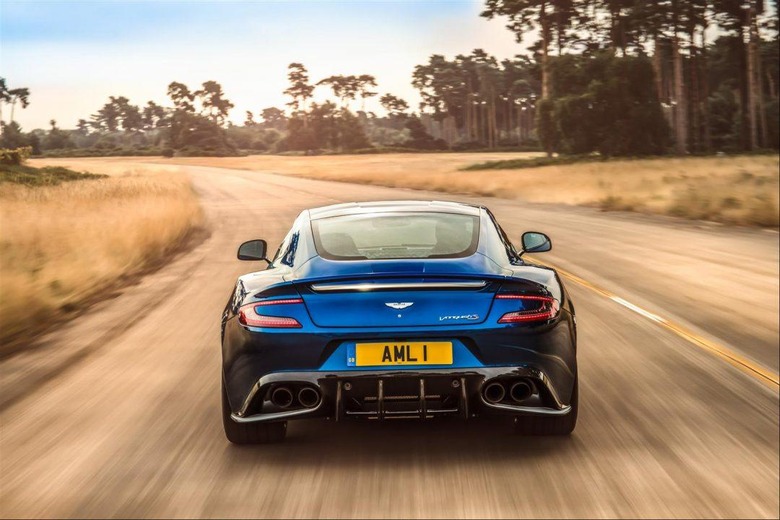 As for the interior, there's new "Filograph" quilted leather on offer, extending not only across the seats but up to the roof liner as well. The distinctive dashboard is satin-chopped carbon fiber, and there are plenty of new "Vanquish S" logos to be found, such as embroidered on the headrests. No gear shifter, just a row of drive mode buttons across the center console, which is topped with a pop-up 6.5-inch display.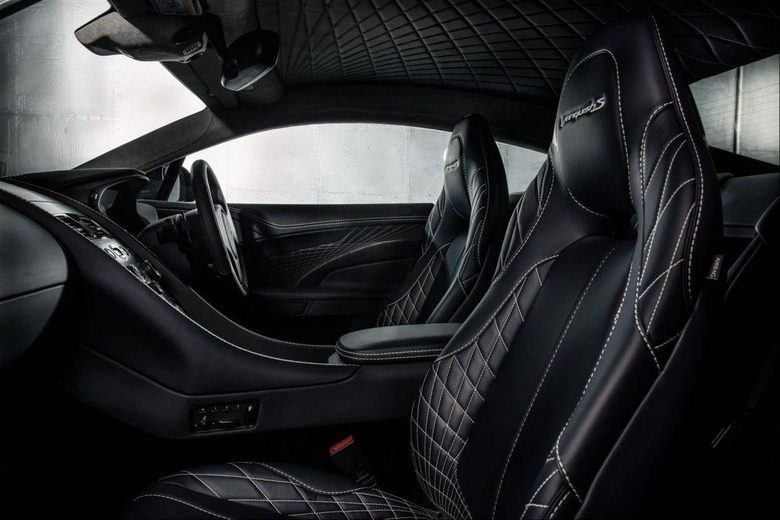 That shows navigation information, among other things, from the company's new AMi III Infotainment system. It's paired with a 1,000 watt Bang & Olufsen audio system with 13 speakers as standard. Power seats, parking sensors, a reversing camera, and power folding exterior mirrors are standard.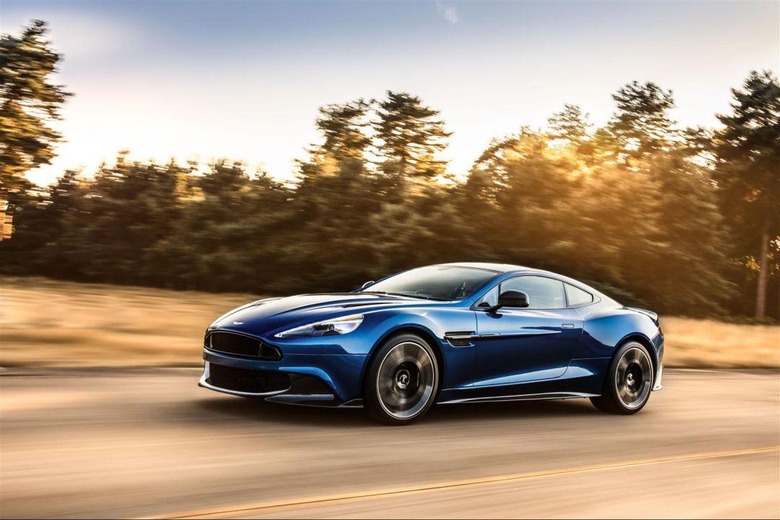 Aston Martin will offer the Vanquish S in both Coupe and Volante (aka convertible) forms, with deliveries expected to kick off come December this year. Pricing starts at $312,950 in the US.