Aston Martin Rapide AMR gives 580hp four-door a racing makeover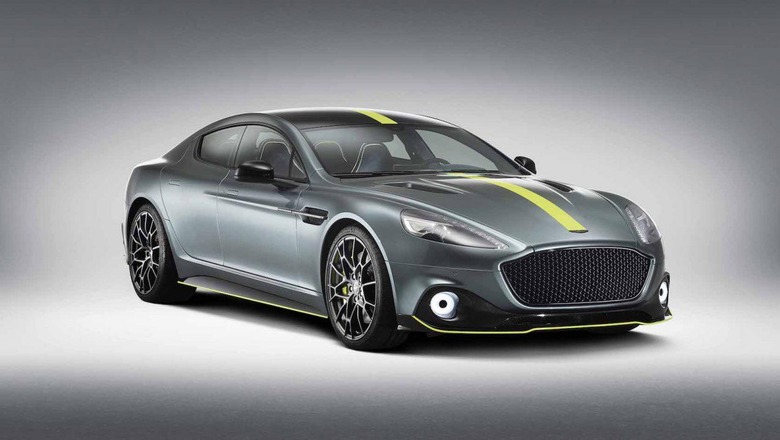 Aston Martin has given its four-door coupe a 580 horsepower makeover, with the Rapide AMR giving Porsche, Mercedes-AMG, and others some serious side-eye. The production version of the Rapide AMR concept shown off at the Geneva Motor Show last year, it's an even faster twist on Aston Martin's handsome four-seater.
That includes preserving most of the concept car's visual changes. The front grille is larger and more aggressive than that of the regular Rapide, while the lights stick with the Zagato-inspired circular DRLs. Most of the changes, though, have been done with aerodynamics in mind.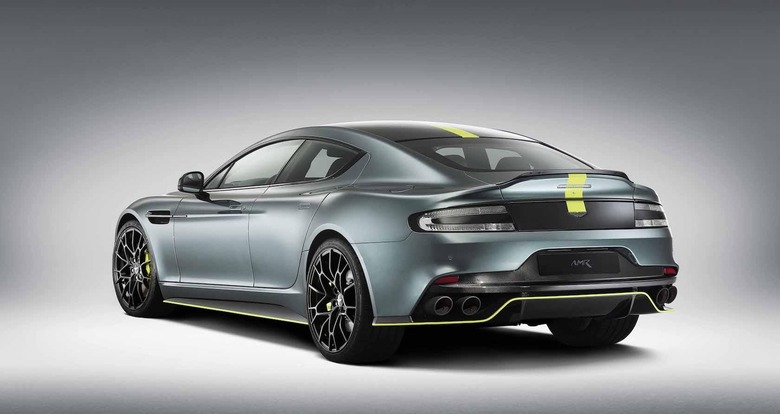 So, the splitter, sills, rear diffuser, and boot lid lip spoiler are in carbon fiber to keep weight down, and help reduce lift at speed. The hood is carbon fiber too, and has sizable ventilation cut-outs.
They're needed, too, since underneath is a revamped version of the naturally-aspirated 6.0-liter V12 that helps makes the Rapide so endearing. Larger inlet manifolds with tuned length dual inlet runners have boosted airflow; Aston Martin Racing's engineers combined that with new engine and transmission calibration, to bump up power. It means a hefty 580 HP and 465 lb-ft of torque.
Altogether it's sufficient for 0-60 mph in a mere 4.2 seconds, and a top-speed of 205 mph. Slowing, meanwhile, comes courtesy of new carbon ceramic brakes, with 400mm front discs with six piston calipers, and 360mm rear discs with four piston calipers. They're the most potent brakes of a production Rapide so far, and they're combined with 21-inch wheels, a first in fact for any Aston Martin.
Not just any wheels, either. The forged multi-spokes have been designed to be not only stiff but allow plenty of air to flow through, helping keep the brakes cooling. Modified brake ducts and dust shields borrow design elements from the Vanquish S, meanwhile, to also aid in keeping temperatures down. Altogether, the Rapide AMR sits 10mm lower than a Rapide S, with tweaks to the three stage adaptive dampers to make them more dynamic and focused.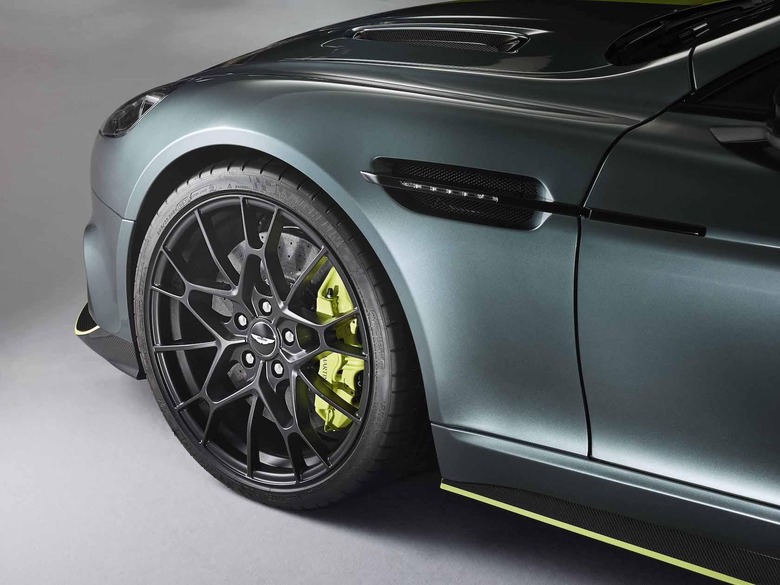 Not everything has been done with performance alone in mind. There's also the experience to consider: witness, for instance, the new quad exhaust system, which Aston Martin describes as positively "raucous" in its chorus. Three color schemes will be offered, too.
Standard and Silhouette will come with a choice of four colors – Mariana Blue, Scintilla Silver, Lightning Silver, and Onyx Black – with the Standard scheme throwing in some AMR Lime accents to the splitter, sills, and rear diffuser. Silhouette drops the lime, and throws in a full-length China Grey or Clubsport White strip.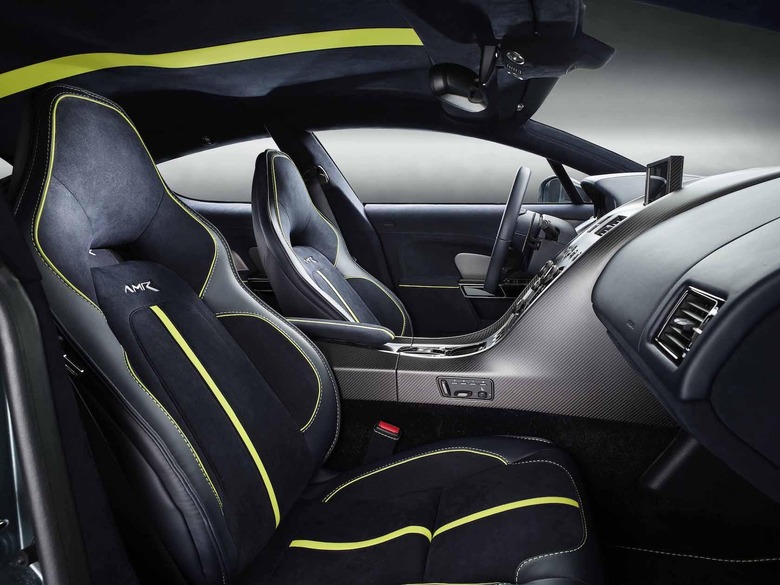 Signature scheme cars, meanwhile, combine Stirling Green paint with Lime accents and a Lime stripe. It's about as close as you can get to an AMR racer but with four doors, the automaker points out.
Inside, the full-length carbon fiber console is flanked by Alcantara-clad seats. The One-77 style steering wheel is an option, and there are plenty of AMR plaques, badges, and stitching. Q by Aston Martin, the automaker's bespoke team, is on hand to make any more custom changes.
Tempted? You'll need to act pretty fast if you want a Rapide AMR on your driveway. Aston Martin says it only plans to make just 210 of the cars to sell worldwide, each priced from $240,000. Initial deliveries will kick off in Q4 2018.