Aston Martin debuts all-electric RapidE concept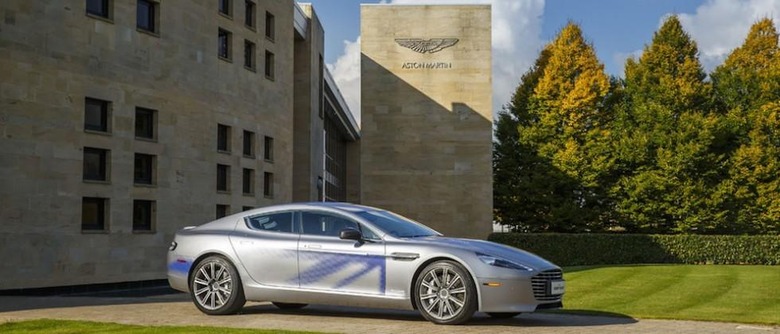 You may have read that headline and been a tad confused, thinking that Aston Martin has already made the Rapide for several years now. But this isn't the same as the British manufacturer's existing four-door sedan. This is a concept of an all-electric version, signified by that capital "E" at the end of the name. While the exterior looks exactly the same as the current Rapide, the RapidE is the result of a collaboration with Williams Advanced Engineering.
Back in June, Aston Martin CEO Andy Palmer spoke in an interview about a hybrid model being the in the company's near future. This was followed-up later in the summer with the news that the company was developing an electric model Rapide that could feature up to 800hp. This RapidE seems to be what they've come up with.
The concept's unveiling is meant to tie-in with the Chinese president's visit to the UK, as it was the venture capital company ChinaEquity's investment in Aston Martin that made the development possible. But the car is more than just a show of appreciation for much-needed funding, as Aston says the RapidE could enter production in the next two years or so.
"The exciting RapidE concept tangibly demonstrates the capability and ambition of Aston Martin towards developing low- and zero-emission sports cars," commented CEO Palmer.
Should the RapidE start becoming available in 2017 or later, expect it to only be driven by those with a lot of money to spend on a car. The current, non-electric Rapide of today already costs around $200,000, so we can only imagine what adding large-capacity batteries and other necessary technology will do to that price.
SOURCE Aston Martin