Aston Martin made a 430hp city car and we're in love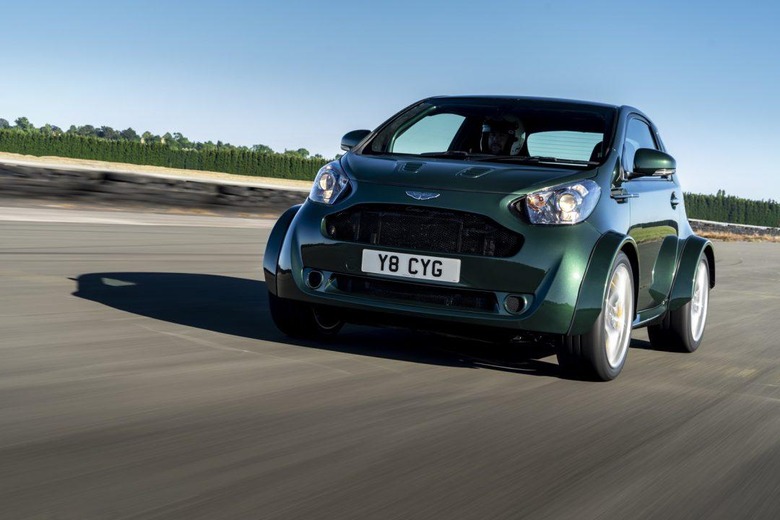 Aston Martin's two-seater Cygnet city car might not be your first port of call for a 430hp racer, but that hasn't stopped the British automaker's engineers crafting a bizarre one-off with the V8 engine of a Vantage. The unexpectedly potent runabout is the handiwork of the Q by Aston Martin commission team, the group within the car-maker that comes up with solutions to customers' trickiest challenges.
In this case, the challenge was something along the lines of "turn my misunderstood city car into something that could cause heart-attacks on the track." The donor car is a right-hand drive Cygnet, from which the Q team took the steel body shell and panels and welded on a roll cage. A new front bulkhead and transmission tunnel were then added, since the car's new engine is considerably larger than the regular one.
What an engine it is, too. Snagged from the previous-generation Vantage S, it's a 4.7-liter naturally aspirated V8, with 361 lb-ft of torque and a seven-speed Sportshift II transmission. A bespoke exhaust system and bespoke intake trunking for twin conical air filters join the Vantage S' cooling system, and there's a limited-slip differential.
Altogether, Aston Martin says, it means the Cygnet V8 is good for 0-60 mph in 4.2 seconds, and a top speed of 170 mph. Not a bad improvement over the 106 mph top speed and 11 second 0-60 mph time that the original car's 1.3-liter engine offered.
Indeed, with just 97 horsepower on tap, the unmodified Cygnet definitely bucked the trend for Aston Martin, though that was primarily by design. Revealed back in 2009, it was effectively a rebadged, retrimmed version of the Toyota/Scion iQ. The justification was fairly cynical: European regulations were fast approaching, with automakers being judged, from 2012 onwards, by the average economy of their range as a whole. The roughly 59 mpg Cygnet, therefore, could have a disproportionate impact on the automaker's overall average.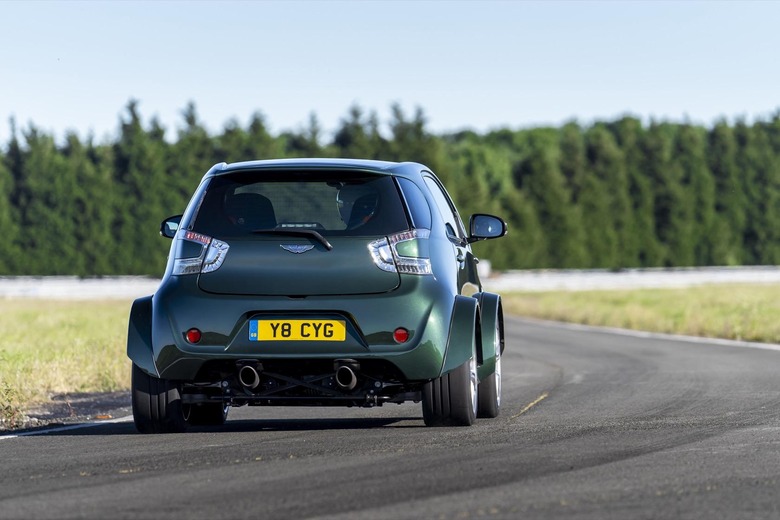 Despite it being priced at at roughly three times as much as the Toyota was, Aston Martin still predicted sales of around 4,000 per year. Instead, it was axed after two years of production, with only 150 sold in the UK, and roughly twice as many in total. Even as rare as it now is, though, this V8 Cygnet is even rarer.
You can't mistake it for the regular car. The short hood is the same, and though there's new mesh in the grille it's the standard opening from the Cygnet. The Q team had to fashion new wheel arches for the front and rear tracks, however, which are much wider than normal.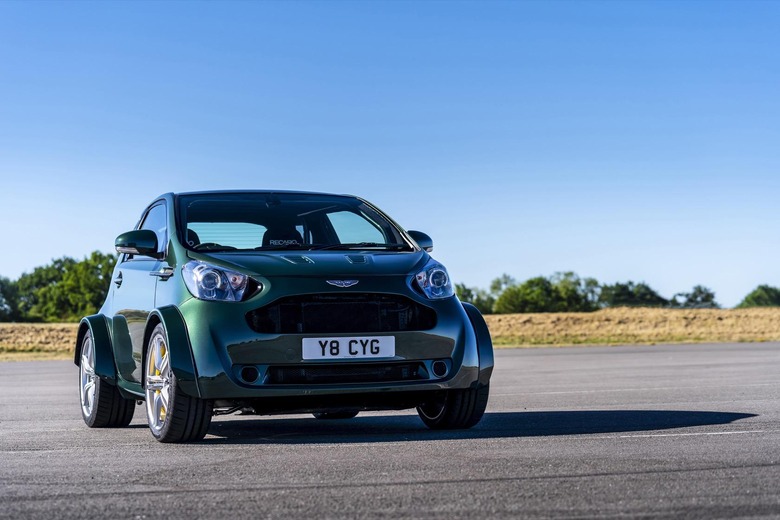 As a result, the V8 Cygnet gets carbon composite flared extensions, wrapped around 19-inch five-spoke, forged, diamond-turned wheels. 380mm discs with six-piston monoblock calipers are at the front, and 330mm discs with four-piston monoblock calipers at the rear. They're yellow painted, to contrast with the Buckinghamshire green bodywork.
Inside, there's an FIA compliant fire extinguisher system along with composite, fixed-back Recaro bucket seats with four-point harnesses. The Vantage instrument cluster has been integrated into a bespoke carbon dashboard, and the Alcantara-clad wheel is removable, just as in a proper race car. You do, at least, get air conditioning, two USB ports, and leather pull-straps for the carbon door trim.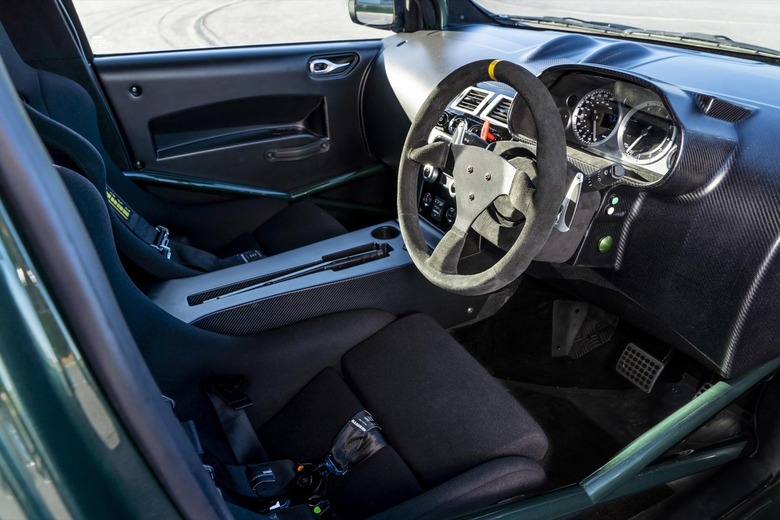 With 50/50 weight distribution and a 313 horsepower per tonne power-to-weight ratio, the V8 Cygnet tips the scales at just over 3,000 pounds wet and has a faster acceleration time than the V8 Vantage S from which it stole its engine. Aston Martin is bringing it along to the Goodwood Festival of Speed this weekend, though our hopes for a single-model racing series of roaring Cygnets probably won't come to fruition.