Aston Martin CC100 marks centenary with crazy one-off racer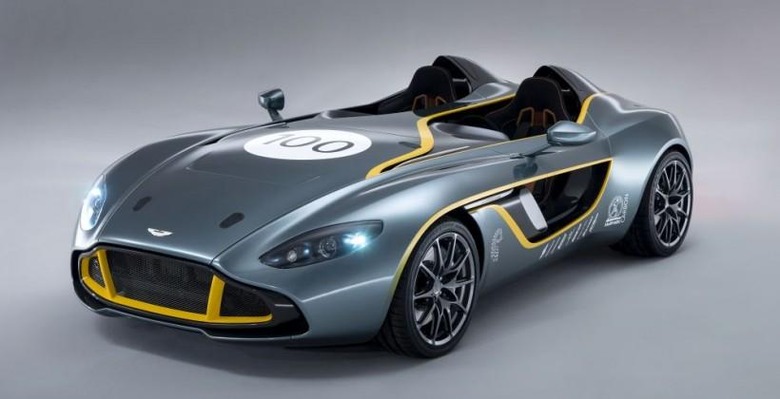 A new Aston Martin is something worth shouting about, but it'll take a number of loud (and rich) voices if the one-off CC100 Speedster Concept is to spawn a production version. The pared-back racer, crafted by the British sportscar company to celebrate its centenary, borrows the long, low, lean style of Aston Martin's 1950s DBR1 racers, but brings the technology up to date with a 6.0-liter V12 engine good for a 0-62mph dash in "a little over four seconds."
Top speed is an electrically-restrained 180mph, with the CC100 slamming through a six-speed hydraulically-actuated auto sequential manual gearbox. That's controlled using paddle-shifters on the wheel in the driver's pod; accommodation in the Speedster Concept is for two, with each getting a separately-braced area in the carbon-fiber cabin.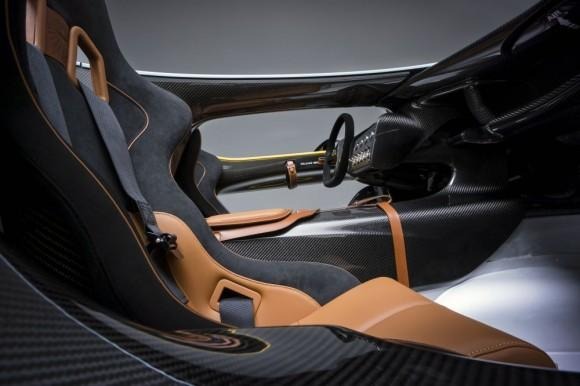 Although rain and wind might be an issue – there's no roof, and no windshield – the CC100's interior is otherwise relatively luxurious for a racing-oriented concept. As well as carbon-fiber there's Bridge of Weir leather, glass buttons, and the same glass starter-button as on Aston Martin's production road cars. The slimline doors – more like safety bars – hinge up and out to allow you to squeeze into the hide-covered racing seats.
Aston Martin CC100:
In all, it's nearly 4.5m long and more than 2m wide, though interestingly shares a lot of the underlying chassis technology with the car company's more mainstream range. Under the lightweight carbon-fiber is Aston Martin's Vertical Horizontal Platform, a multi-purpose structure which is specially fettled for each car, whether it be the four-door Rapide or tourers like the DB9.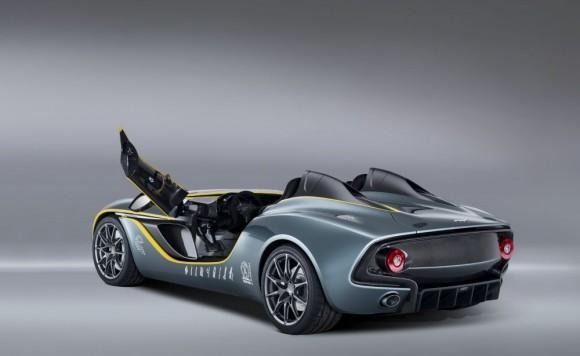 The CC100 made its public debut this weekend, at the ADAC Zurich 24 Hours of Nürburgring race, alongside the same Aston Martin DBR1 that completed the 1959 race. At the wheel of the classic was the same driver who guided it round those 1,000km (621 miles) 54 years ago, racing driver Sir Stirling Moss.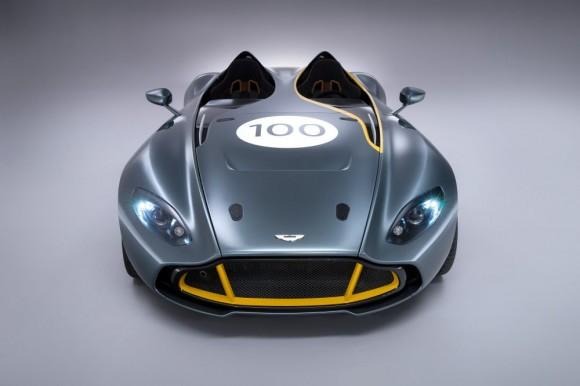 Unfortunately, there are no plans – public, at least – to create a production version of the CC100 Speedster Concept. However, given sufficient demand it's possible that Aston Martin could relent on that front, and start a small-scale production run in a similar manner to its bespoke One-77 supercar.