Astak Mole intelligent IP webcam has YouTube & Twitter integration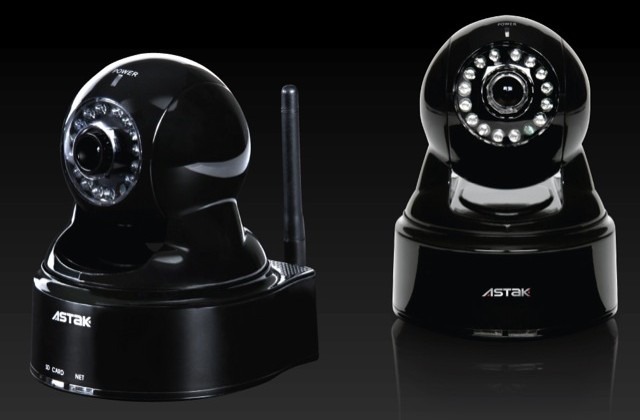 We're not entirely convinced by the idea of naming your autonomous webcam "The Mole"; after all, when it comes to eyesight moles aren't especially known for their 20/20 vision.  Still, we'll overlook that since Astak's Mole is pretty nifty: a motion-activated IP webcam, with WiFi and wired ethernet connections, that can automatically upload footage to YouTube together with sending out email and Twitter messages.
The idea behind the Mole is to make IP webcams incredibly straightforward to set up, and basically once you've plugged it in and got it onto your network, you can remotely access it from any internet-connected PC or smartphone, pan and tilt the camera, and upload clips to YouTube.  Alternatively, you can leave the Mole to manage itself, leaping into action once it spots movement, uploading the clip and tweeting to let you know new footage is available.
Local storage is also possible, thanks to an SD card slot, and there's support for night-vision and two-way audio.  The Astak Mole is available from early November, with an MRSP of $299.
Press Release:
ASTAK INTRODUCES WORLD'S FIRST SELF-CONFIGURING, STANDALONE INTERNET CAMERA IDEAL FOR KEEPING AN EYE ON HAPPENINGS AT HOME

YouTube, Twitter and iPhone ready, the affordable and easy-to-use Mole is the first "do it yourself, view from anywhere" solution for remote viewing and sharing

SAN JOSE, Calif.–October 28, 2009–The lowly mole is a victim of poor PR, but that's about to change with Astak Inc.'s innovative new product, the Mole — a standalone Internet camera for consumers who need an easy and affordable way to capture, view and share unattended video over the Internet. Featuring automatic network configuration, the Mole makes it simple for home or business users to remotely view and share video in real-time from any web browser, social networking site, or Internet-capable cell phone, including the iPhone.

Unlike current webcams that require a PC for use, or IP cameras that are complicated to set up and often require customer software to view, the Mole is the first "do it yourself, view from anywhere" solution for home or business surveillance, health and family care (elder or children), social network sharing, pet or bird watching, and other unfolding events such as social gatherings. The Mole is also an ideal way to keep an eye on business or home while traveling.

"The Mole will redefine home and business surveillance, and it also opens the door to using a remote camera for sharing unattended video, since it's Web 2.0 ready," said Jason Hsia, CEO of Astak. "Internet citizens are already uploading over 20 hours of video to YouTube every minute. When interesting or important events are underway, you can't always be there to see or record them in person. That all changes with the Mole, where motion-detected events can be auto-uploaded to YouTube and a tweet auto-sent to your Twitter feed."

A standalone Internet camera with advanced built-in software, the Mole provides auto-configuration so that the user can set up the camera in just a few easy steps and access their video privately without any network knowledge. Once set up, the Mole allows users to adjust the pan remotely to change the view instantly. While easy-to-use and affordable, the Mole camera includes high-end features such as motion detection activation, night vision, two-way audio, and a built-in DVR. The Mole also features both Ethernet or Wi-Fi connectivity.

The Mole is designed for direct access from any web browser, which lets users watch their video instantly, from anywhere, including the iPhone. The on-board software is specifically tailored for seamless Internet sharing, including auto-uploads to YouTube. Users can also choose to receive real-time alerts via email or Twitter, sent to their mobile phone or any IP-enabled device.

Available in early November 2009, the Mole will be distributed through Astak's network of retail and distribution partners, including Fry's Electronics, Costco, NewEgg.com, Amazon.com, Walmart.com and Astak.com, with an MSRP of $299.00.