Assassin's Creed: Pirates to hit smartphones and tablets Dec. 5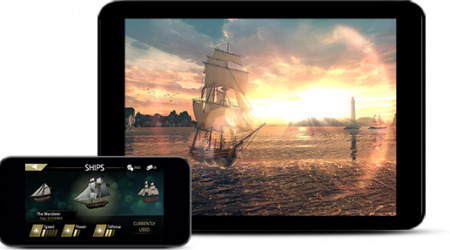 Hot on the heels of the Assassin's Creed 4: Black Flag release for PCs and consoles, a new Assassin's Creed title is coming to handhelds, Ubisoft has announced. The new game will be available on iOS and Android devices beginning Dec. 5. The price of the game is a drop-in-the-bucket $4.99.
Pirates will focus on naval battles. The game relies heavily on a 3D graphics engine designed specifically for handhelds. In it you'll be able to build a crew, upgrade your ship to more and more powerful fighting capabilities, and explore the Caribbean Sea.
The weather will play a major role, made possible by the graphics engine. It'll function as another "adversary" of sorts that you'll have to deal with as you go from battle to battle. Side missions, treasure hunts and other excursions round out the game world.
The new title is intended as a companion for Black Flag. It uses many of the same characters and themes. For a taste of what's to come, watch the video above and check out our SlashGear review of Black Flag by Chris Burns.
SOURCE: Ubisoft