Assassin's Creed Odyssey DLC includes Assassin's Creed 3 Remastered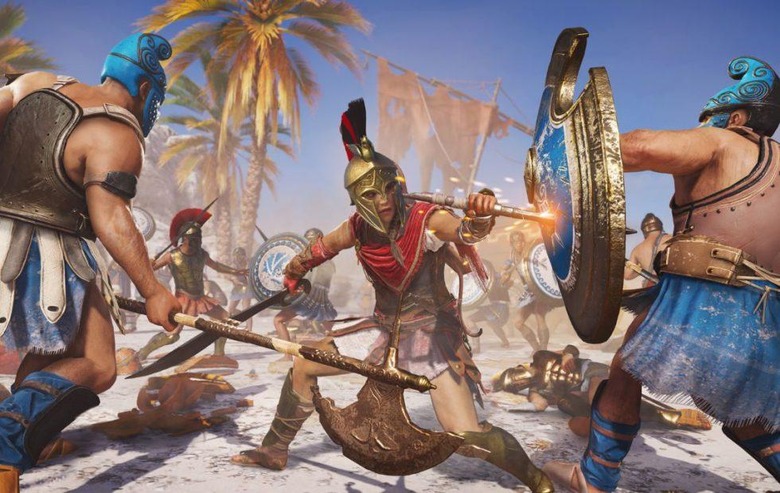 We've still got a few more weeks to go before Assassin's Creed Odyssey arrives, but today, Ubisoft revealed its plans for post-launch content. More specifically, it revealed what will be included in Odyssey's season pass alongside the add-on content that all players will get for free. Ubisoft says that Odyssey will feature the company's "most ambitious post-launch support ever" for the franchise, and after seeing the video embedded below, we believe it.
Ubisoft starts by diving into the content of the season pass, announcing that it'll offer two additional story arcs of three episodes each. The first story arc is called Legacy of the First Blade, which will dive into the origins of the hidden blade that many of series' protagonists use. The second arc is called The Fate of Atlantis which, as you might guess, is centered around the mythical underwater city.
Legacy of the First Blade will be the first of these two out of the gate. The arc's first episode will debut in December, with new episodes launching roughly every six weeks afterward. The Fate of Atlantis will follow the same kind of release schedule, but the first episode won't roll out until sometime in spring 2019.
The main attraction for many, however, could very well be Assassin's Creed 3 Remastered, which all season pass owners will receive. Ubisoft doesn't really get into specifics about the remaster in the trailer it published today, so we'll have to wait for more details on that as we get closer to release.
Finally, there will be a fair amount of free content for all Odyssey players, whether those are additional side quests released in between episodic DLC or weekly encounters with epic ships or mercenaries. Ubisoft recently went on record saying that there won't be an Assassin's Creed game for 2019 as it'll instead be focusing on bringing new content to Odyssey, and today's trailer lays out a pretty good road map for that. Assassin's Creed Odyssey is out on Xbox One, PS4, and PC on October 5.