Assassin's Creed comes to Monster Hunter: World in sneaky new event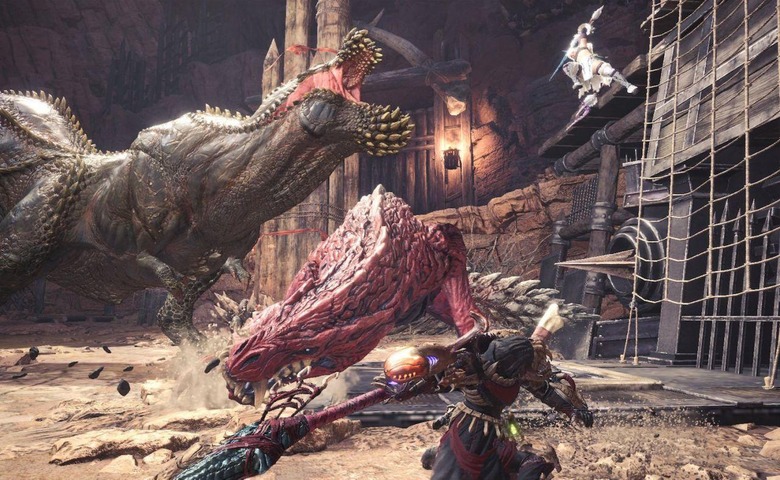 Following its massively popular release earlier this year, Capcom's Monster Hunter: World closes out 2018 with another crossover event. While these limited-time events are usually announced far in advance, the latest arrived as a quest that was seemingly snuck into the game this week. A fitting debut, as this time around Monster Hunter players are getting to dress up like Assassin's Creed.
If players tackle the new quest, dubbed "SDF: Silent, Deadly, Fierce," they'll be able to don the appearance of Assassin's Creed heroes Bayek and Ezio Auditore. The quest is a bit shorter than some of Monster Hunter: World's previous events, but it's not any easier. Hunters will need to defeat three of the game's biggest creatures in a special arena: Odogaron, Deviljho, and Lunastra.
If successful, players will earn a special item called Senu's Feather. Each of the two Assassin's Creed gear sets will cost two feathers, meaning the arena must be cleared at least four times to earn everything. Like some of the armor from previous crossovers, the Bayek Layered Armor doesn't have any stats and is merely cosmetic, however the Assassin's Hood features a stealthy effect: "Increases movement speed and allows you to hide quicker. Lasts until you deal damage to a monster caught unaware."
The Assassin's Creed event is live in Monster Hunter: World from now until January 10th. Previous crossovers have featured Final Fantasy and Sony's Horizon: Zero Dawn, as well as Capcom's own Devil May Cry, Street Fighter, and even Mega Man. The next event has already been revealed to feature The Witcher's Geralt of Rivia, while Monster Hunter: World's first expansion, Iceborne, will be arriving sometime in autumn 2019.
SOURCE Kotaku