Arnold enters VR with Terminator Genisys for Google Cardboard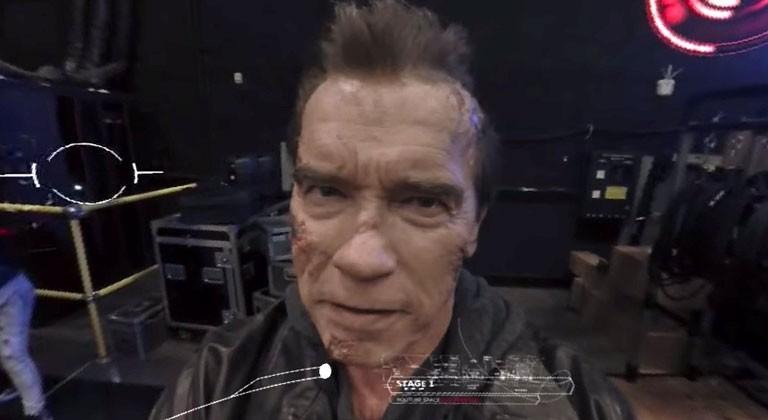 Today the next step in the never-ending Terminator series hits theaters – but before you get there, an experience awaits your smartphone. Today the folks at Specular Theory have a Terminator Genisys full 360-degree video prepared for the masses, created using YouTube Space LA and Arnold Schwarzenegger himself. This is 360 YouTube Chronicles, available to the masses through YouTube today, outside the film. You're going to want to watch this before you head to the movie theater – then you're going to wish that the whole movie was filmed this way.
The video you're about to see is filmed with 360-degree spherical camera hardware. In YouTube on your desktop (in Chrome) you'll be able to play the video with WASD controls. Touch your W, A, S, or D key to see different angles. You can also click and drag the video to move.
If you're viewing this video on a mobile device – iOS or Android – you'll want to use your Google Cardboard headset. Inside, you'll get the full virtual reality experience.
Below you'll see the making-of video presented by Specular Theory.
One interesting bit for those of you following along with the 360-view camera market is that in the making-of video, one shot showing a camera on a monopod has the 360-camera blurred out. We've contacted the crew at Specular Theory, but we're expecting this is a sort of deal where they're using Google's gear most of the time, and other cameras for tests.
UPDATE: According to Specular Theory, they used "their own equipment and cameras to produce the film", not Google's!
See the article Google's VR Circle is Now Complete: Cameras to Cardboard for more information.