ARM Mobile Computer Concept tips future of Smartbooks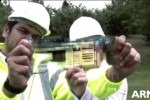 Hot from the "hang on, why haven't I seen that before?" department comes ARM's video demo of what a Mobile Computer Concept should be.  Based on ARM's Cortex A9 processor with the ARM Mali 400 chipset providing graphics, the most obviously unfeasible part of the concept is the pull-out, flexible touchscreen.
Video demo after the cut
The demo has become topical (again) what with the ARM-powered Qualcomm Smartbook platform, officially launched at Computex 2009 this week.  Intended to slot in-between smartphones and netbooks, but offering various degrees of functionality from each, Smartbooks would package 3G WWAN connectivity, GPS and other wireless technologies with a usably-large display, all-day battery life and HD playback.
At the company's Computex keynote this morning, ARM CEO Warren East described the current iteration of netbooks as actually offering too much power for what most users demand of them.  Instead, Smartbooks would offer tailored power – suited to HD media playback and internet access – with lengthy battery life.
[via UMPC Fever]