Archos Gen10 XS tablet line gets ultra-thin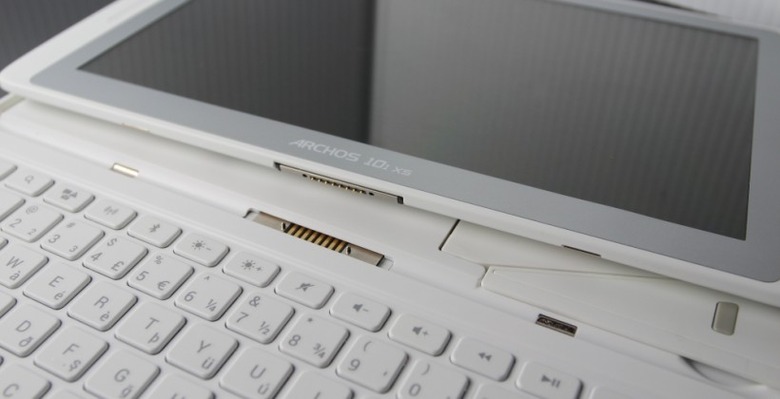 When Archos says they're going to get thin with their new tablet lineup, they really, really mean it – with just 0.31-inches in the tablet portion alone, they're amongst the thinnest slates on the market. This 0.31 number comes from the first device to hit the market in the Gen10 XS lineup – have a peek at our Archos 101 XS full review to get a better look at it! Meanwhile hear this: this lineup has the folks at Archos taking the vertical integration route like many manufacturers have been prone to working with lately, creating a docking station and boombox for the lineup as well.
We'll be seeing accessories for this line of tablets later this year, and the 101 XS model, the first in the line of three tablets, will be available in the USA in November. So it's all still sort of far off – we're hoping they make a move to either upgrade the software to Android 4.1 Jelly Bean by then or are able to bring the slate (and its siblings) to the states a bit earlier. Otherwise there might be a bit of stiff competition from the manufacturers ramping up their Jelly Bean and ultra HD offerings right this minute.
[vms 33905293aab661fcf8dd]
What you've got with this lineup that remains constant across all three tablets, the 101 XS, the 97 XS, and the 80XS, is a "thinnest Archos tablet ever" specification. You've also got the same unique magnetically-connected keyboard dock (aka the Coverboard) for each unit (shaped according to the unit, of course), and Android 4.0 Ice Cream Sandwich as well. This version of Android is an "un-skinned" version of Google's mobile OS, only adding in a couple of media playing apps in the end.
Each of these units is ever so slightly different in its display size, but other than that, they're bringing on one remarkably similar experience. Have a peek at the timeline below to see what Archos has brought to us in the past, and check our our full Archos 101 XS experience above to see how they'll be changing the tablet game – in one way or another – this Fall.