Archos G9 Android Honeycomb tablets go pre-order September 20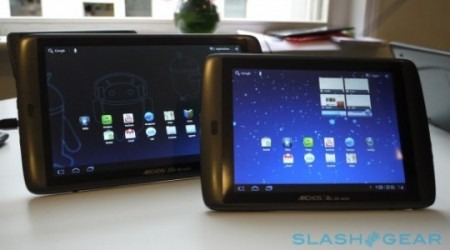 If you have been waiting for the Archos G9 tablets to hit stores so you can run in and buy one the time is near. Last time we reported, the tablets were set to launch this month. Now Archos has gone official and has announced that the G9 tablets will go up for pre-order on the 20th of September. They will hit stores in October for you to walk in and buy or order online. The G9 tablet has two members in the line with the 10.1-inch screen veriuson and the 8-inch screen version.
The Archos 101 G9 tablet will come in two versions with a 16GB version that sells for $399. The 250GB version of that tablet will sell for $469. The Archos 80 G9 with 16GB will sell for $329 and the 250GB version will sell for $369. The 250GB version of each model use a HDD inside and the other version uses flash storage. There will be a third version of the Archos 80 G9 with 8GB of storage and a 1GHz processor for $299 that will be in stores on September 30.
The tablets all use a 1GHz Arm Cortex A9 dual core processor. There will also be a Turbo version with the OMAP 4 dual-core processor at 1.5GHz. There are no other details offered on that turbo version. The line runs Android 3.2 Honeycomb, supports Flash, apps, email, and all the other things we expect from an Android tablet.
[via Android Community]