Archos 9 Tablet PC On Sale Now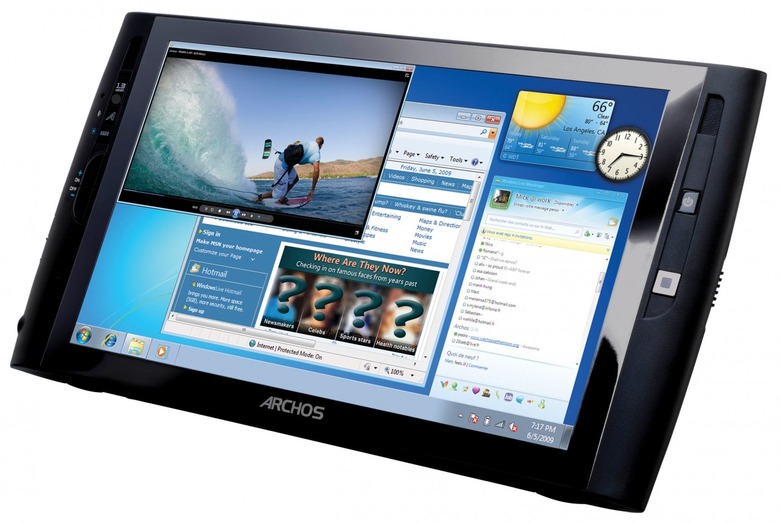 Although we all know that Microsoft is heading into tablets with a completely revamped Windows 8, some of us may be too impatient to wait several months until the first Windows 8 tablet hits the market. And if Android and iOS tablets don't suit your taste, then there are still tablets outfitted with Windows 7. In fact, Archos has just tweeted today an all new follow-up to their Archos 9 PC Tablet with some upgraded specs.
The Archos 9 PC Tablet merges the power of the desktop OS with the portability of a tablet form factor. It features a 9-inch matte-finish touchscreen powered by a 1.2 GHz Intel Atom Z515 CPU. It has a 32GB solid state hard drive, a built-in webcam, WiFi, stereo speakers, microphone, USB port, and Bluetooth.
The tablet comes pre-loaded with Lotus Symphony for creating and editing documents, spreadsheets, and presentations. It also has a built-in adjustable kickstand that lets you angle it high for watching videos as well as angle it low for typing. Battery life is rated up to firve hours, but is swappable with a spare battery.
External hard drives, printers, and digital cameras can all be connected to the Archos 9 via its USB port. Bluetooth keyboards and peripherals can also be connected. It supports Flash 9 videos and can stream 1080p HD videos to your TV from YouTube, Hulu and more. The tablet is available now on the Archos site and is priced at $499.99.
[via Archos]