Archos 5G PMP, M! MID & Eee PC 901 3G+ all launch on SFR with HSDPA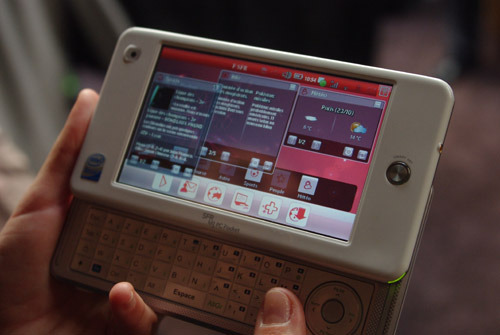 French carrier SFR has officially announced three 3G-enabled mobile devices, the Archos 5g Internet Media Tablet, the M! PC Pocket and a WWAN-enabled ASUS Eee PC 901.  All have integrated 3G HSDPA modems, with monthly data subscriptions of €19.90/$25 (for existing subscribers; €24.90/$32 for new) on the Archos and M!, and €29.90/$38 (for existing subscribers; €34.90/$44 for new) on the ASUS Eee PC.  The Archos 5g has a 30GB hard-drive and new, SFR-specific menus and widgets.
The PMP measures 132 x 79 x 13mm and weighs 250g, and has a slick matte-black casing. It's priced at €249 ($320) and can be bought unsubsidized (and contract-free) for €449 ($572). That makes it more expensive than the 60GB Archos 5, which while lacking integrated 3G can be used with a plug-in USB HSDPA modem.
As for the M! PC Pocket MID, it has a 4.8-inch touchscreen, Intel Atom 800MHz Z500 CPU, 4GB SSD and 512MB of RAM. It has both a rear 3-megapixel camera and a front VGA webcam, together with WiFi and Bluetooth, and is priced at €249 ($317) with the same two-year contract as the rest.
Finally, the ASUS Eee PC 901 is priced at €279 ($358) and comes with a 1.6GHz Intel Atom CPU, 1GB of RAM and a 16GB SSD. According to SFR you'll get 5hrs use from it, even when using 3G HSDPA.
Monthly subscription prices for all three are based on a 24-month contract; 12-month contracts are available, but cost €5 ($6.37) a month more. While advertised as unlimited data, there is a soft-limit that appears to be – in the case of the Archos and M!, anyway – 500MB, after which data speeds could be limited to just 128kbps.