Archos 3 PMP with 8GB and "virtual wheel" controller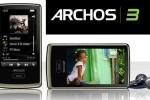 The Archos 9 PC Tablet isn't the only touchscreen product to arrive from the company today; there's a much smaller finger-friendly screen on the Archos 3 PMP.  The Archos 3 has a 3-inch touchscreen and 8GB of flash memory for up to 4,000 songs.
It also features Archos' new UI, a "virtual wheel" selector which supposedly makes navigating straightforward.  It's unclear whether the wheel is an on-screen thing, perhaps a translucent overlay, or involves what looks to be a touch-sensitive button on the lower front panel.
In addition to music, video and photos stored in the Archos 3's memory, there's also an FM radio, clock, calendar and audio recorder.  Battery life is tipped at up to 14hrs audio playback, and it's apparently going to be priced at roughly €100 ($141).
[Thanks Cristian!]