AR Stickers coming to Pixel 2 exclusively (for now)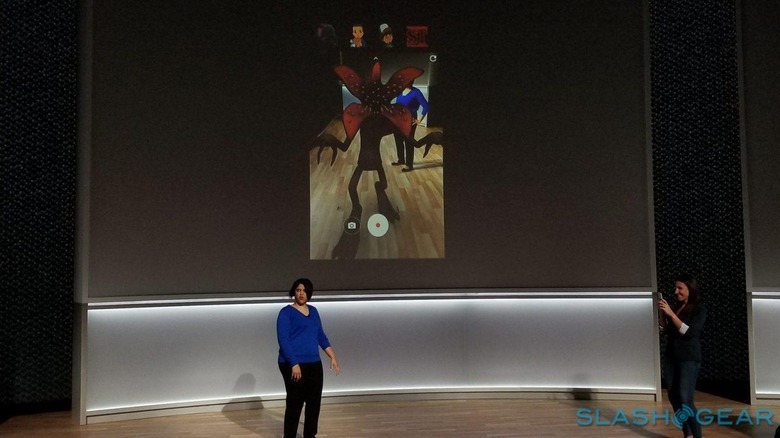 Google just revealed the most interesting built-in Augmented Reality feature for the Pixel 2 – called AR Stickers. This device was revealed earlier today in two sizes, both with the ability to roll with Google Lens as well as augmented reality. With AR Stickers, you're basically getting the flipped-camera features of Snapchat, but built in to the Google Pixel's camera and camera app.
This new feature works with augmented reality coming from Google's own ARCore. This device is set to be the prime example of what can be done in Augmented Reality on Android devices. With the software and hardware in the Pixel 2, AR Stickers roll right out the box in an impressive set of features.
One of the most impressive bits about the AR Stickers is the number of cross-brand integrations it has already, before release. One is Stranger Things – the blockbuster Netflix series about a monster and a separate dimension called the Updside Down. In Google's demonstration this week at their Pixel 2 event, they dropped in a Demogorgon to battle none other than 11 herself.
Also coming to the first build of AR Stickers for Pixel devices are a number of other brands. Saturday Night Live will be there, as will YouTube (presumably for uploads), the NBA, and Star Wars. The first Star Wars stickers will certainly be about Episode 8, The Last Jedi. These stickers will probably be revealed just a short bit after the release of the smartphone itself.
Have a peek at the timeline below for more information on the Pixel 2 and the Pixel 2 XL. These devices will launch with AR Stickers as well as other augmented reality experiences in the ARCore universe, right out the box. Stay tuned for our hands-on with the Pixel 2 and 2 XL and our eventual review, too!