Apple's Thunderbolt Displays Finally Shipping To Stores This Week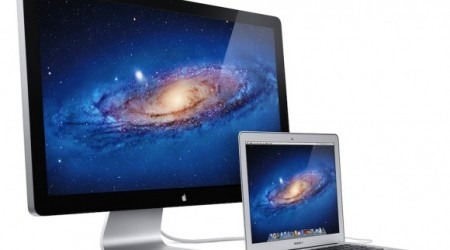 Apple's Thunderbolt Display will finally be shipping to retail stores this week. The revamped 27-inch Apple LED Cinema Display was first unveiled back in July alongside the refreshed MacBook Air, both touting a new high-speed 10Gbps Thunderbolt connector port. But, the display hasn't made any progress to store shelves until now.
According to MacRumors, the Thunderbolt Display should ship to both Apple Stores and resellers sometime this week with customer orders fulfilled soon thereafter. The new display is expected to work like a docking station, where a Thunderbolt-equipped Mac notebook can easily connect to the display via a single Thunderbolt cable that also supplies power to become a desktop workstation. It will also feature a built-in FaceTime HD camera, 2.1 speaker system, three USB ports, a Firewire 800 port, and a Gigabit Ethernet port.

And thanks to a second Thunderbolt port, the display will allow for daisy chaining. For instance, if you needed to run two displays, you can do so off of the one Thunderbolt port on your Mac notebook by daisy chaining the second display to the first one. Apple's Thunderbolt Display is available for pre-order now for $999.