Apple's target really Google in HTC patent punch-up?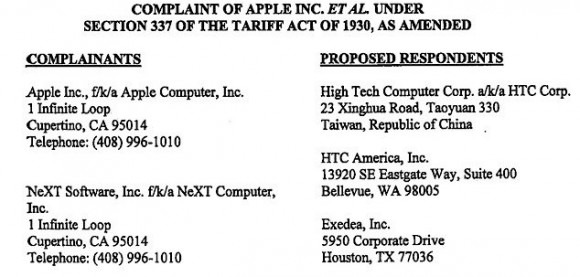 While Apple may be ostensibly going after HTC with this latest round of legal wrangling, it's starting to look like the Cupertino company is actually looking to take on Google.  HTC's devices – spanning Android and Windows Mobile – have been name-checked across the board, but Apple's case saves some serious bile for their Android implementation.  Meanwhile, examination of the specific patents in question raise questions about whether Apple's target really is the device manufacturer, or in fact the underlying platform on which so many of their recent smartphones have been based.
Resident Engadget legal-beagle Nilay Patel has been digging through the hot-off-the-press legal documentation, and has highlighted just how Android-centric Apple's claims are.  Windows Mobile devices, while named in the lawsuit, are only ever tangentially referred to (as "DSP Products") while the Android devices are specifically connected with what Apple believe to be relevant – and infringed – patents.
Meanwhile, over at Gizmodo they've dug through the patent documentation and come up with an illustrated guide.  Some of the filings look, to our legally-untrained eyes, pretty tenuous; Apple have patented "unlocking a device by performing gestures on an unlock image" (US Patent No. 7,657,849), or basically using some sort of slider or control on a touchscreen to unlock your phone.  Meanwhile "list scrolling and document translation, scaling, and rotation on a touch-screen display" (US Patent No. 7,469,381) seems to document paging through various screens of text or menus.
In fact, none of the patents specifically refer to multitouch, despite initial expectations (based on Apple's previous wranglings with Palm).  Instead, many of them deal with the general interface of devices, but since Apple name both devices using HTC Sense and those with the plain Android UI (such as the Nexus One) it's unclear how HTC are entirely responsible for that.  List paging and an "object-orientated graphic system" (US Patent No. 5,455,599) seem hard-boiled into the underlying OS, rather than specifically something HTC have done, hence our suspicion that this is Apple testing the water for an all-out assault on Google themselves.
That could certainly draw Google into the battle, something Apple's phrasing appears reluctant to do with Microsoft.  One thing is certain: expect legal experts to be digging into this battle royale for some time to come.