Apple's September 12 event confirmed: Hello new iPhone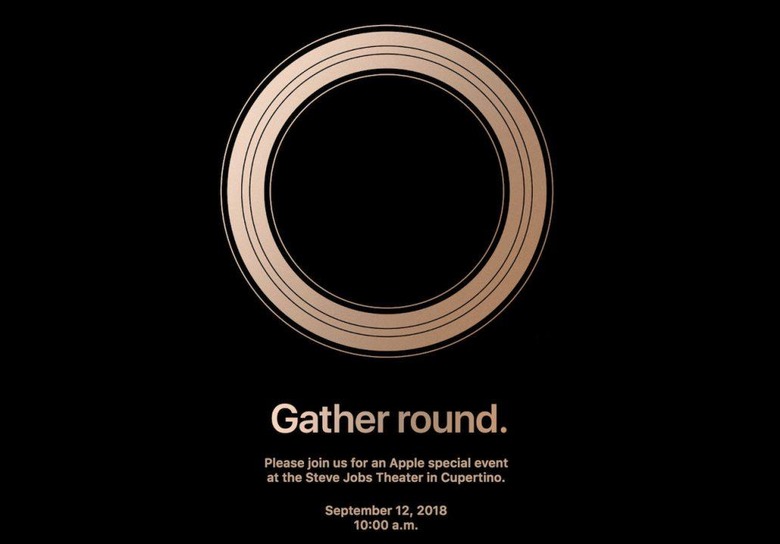 Apple will hold an event on September 12, the company has confirmed today, where we're expecting to see the brand new 2018 iPhone range. Invites to the event were sent out to media this morning, with the launch kicking off at 10:00am PT at the Steve Jobs Theater in Cupertino, CA.
As always, the invite itself is cryptic – though that probably won't stop people trying to read plenty into its minimalistic design. The gold loop is likely a reference to the Apple Park campus, the company's relocated headquarters. That wasn't quite open for Apple's last big event at the Steve Jobs Theater.
We're expecting some big news at the event. The new iPhone is expected to in fact be three devices: an iPhone X 2018, replacing and upgrading the current iPhone X flagship, launched last year, but also a larger version. Unofficially dubbed the iPhone X Plus, it's expected to have the largest screen on an iPhone to-date, but use the notched display and minimal bezels in order to accommodate it without being a monster in your pocket.
A third device, however, is believed to be targeted at the entry-level. Currently known – again, unofficially – as the iPhone X 6.1, it's believed to have a 6.1-inch LCD screen, unlike the OLED panels of the more expensive phones. Still, it'll keep the same notched aesthetic.
What remains to be seen is if there's a "one more thing" surprise. Recent rumors have pegged a replacement to the MacBook Air, for instance, with a new 13-inch notebook widely believed to launch by the end of the year. At the same time, there'll also been speculation about a new Mac mini, Apple's compact desktop computer. That has gone without a significant update for several years, though the Cupertino firm has insisted on several occasions that it hasn't given up on the form-factor.
Whether one or both of those will be ready to launch – or at least – preview alongside the new iPhones is unclear at this stage. There's also been chatter of a new iPad Pro, for instance, and indeed refreshes elsewhere in Apple's hardware line-up.
Nonetheless, with new iPhones and iOS 12 to talk about, that's probably more than enough to fill a keynote. We'll know more when it kicks off on September 12.