Apple's reversible Lightning cable appears on video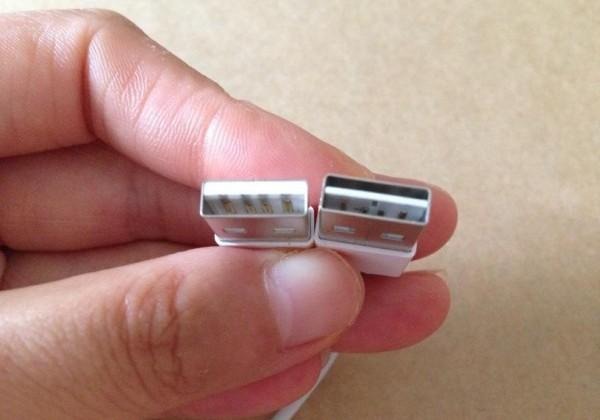 That new Lightning cable that first surfaced in a patent appeared yesterday in some images leaked by Sonny Dickson, all of which clearly show a new USB end that is able to plug into a USB port regardless of orientation. Fast-forward a short while, and Dickson has followed this up with a brief video showing the cable in action.
Dickson posted the video to his YouTube account and fired off a tweet regarding it. In the video, we see a box that says "Lightning to USB Cable", followed by a brief shot of a cable bundled up, and finally a close-up shot of a white USB cable plugged into a USB port.
The cable is removed and flipped upside down, then plugged back in, no hassle. The cable looks identical (in as far as can be determined from the media) to the images that were published yesterday. Unlike a typical USB port, the new one has a slimmed-down center portion in the plug.
This component has contacts on both sides, and can thusly be plugged in regardless of how it is oriented and work as normal. The obvious upside to such a design is no longer having to flip the plug over multiple times before finally getting it to insert properly.
SOURCE: Sonny Dickson