Apple's Next Generation iPod Touch and Nano Cases Outed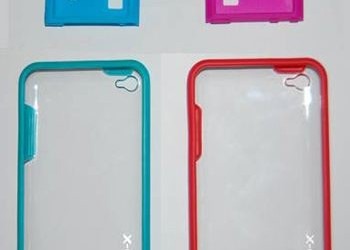 When pictures show up of a new Apple product, it tends to get people in a frenzy. Even if they are, just like in this case, just the outline of the device. With these new cases, the sixth generation iPod Nano and fourth generation iPod Touch are supposedly revealed. No, you don't get to see what the gadgets actually look like, but you do get to see what it would look like to have a very colorful case on them.
The images come straight from Chinese vendor X-Doria, and as you might expect, they outline (quite literally) what you should be expecting to have in your pocket after Apple officially announces them on September 1st. As for the cases themselves, it looks like they're designed with a similar housing as the second- and third-generation iPod Touch devices, but this time, as you can clearly see, there's a point in the corner that's been cut out. That's expectedly for the camera.
As for those small square things above the bigger cases, those are supposedly for the sixth-generation iPod Nano. The case seems to be created specifically for a touchscreen device, as the entire back of the gadget would be covered, but the whole front would not be. And considering we've heard rumors that the new Nano will lose that trackwheel, we're beginning to think those earlier leaked images of the iWatch (or whatever) were indeed showing off the iPod Nano. There's no confirmation yet, but remember September 1st — that's when Apple's expected to get all official on this.
[via Electronista]