Apple's new Chicago store has a giant MacBook on top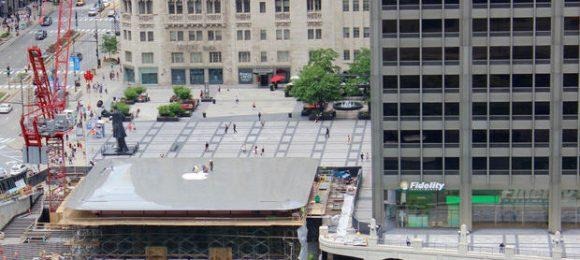 Apple has a new flagship retail store currently under construction in the city of Chicago, and as you'd expect from the company's other flashy stores from the last few years, it features an impressive, striking design. But new footage from the building process has revealed that the store's roof has its own interesting design element: it strongly resembles a giant MacBook.
Local news site DNAinfo shared new photos and video this weekend highlighting how the upcoming Apple Store will look from an overhead view. The silver rectangular roof is made to look like the aluminum lid of a MacBook, while the rounded corners even seem to feature the same angle as those on Apple's iconic notebooks.
Sealing the deal is the addition of a giant Apple logo to the roof, as seen in the clip above. It seems the white logo is a new addition to the store's design, as it wasn't included in the original building plans from 2015. The construction crew left the new logo in place four about an hour, likely to spot check its appearance, before it was removed from the roof.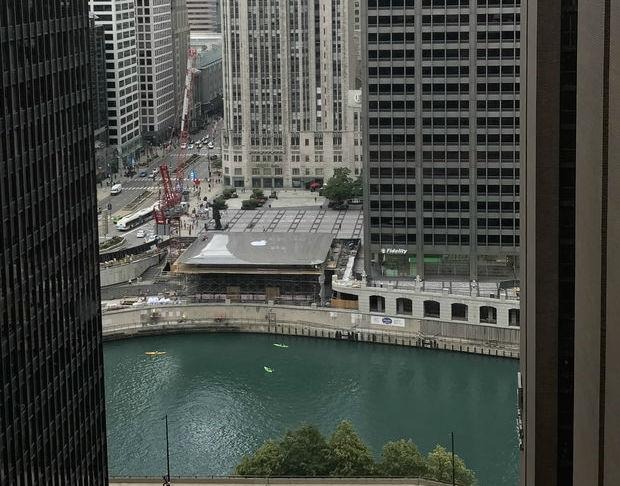 The new store is a relocation of Apple's original downtown retail outlet, and was designed by the firm Foster+Partners. Once complete, the building will feature 20,000 square feet of space, all-glass walls, and a look inspired by the Prairie Style homes of famous architect Frank Lloyd Wright.
SOURCE DNAinfo