Apple's Anobit Flash Specialist Deal Final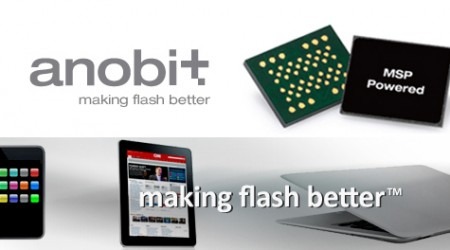 Apple's acquisition of flash memory specialist Anobit has apparently been finalized, reports from Israel suggest, with the NAND controller company's tech used to boost capacity, performance and reliability of storage in future smartphones, tablets and notebooks. Initially rumored earlier this month, the Anobit buy has now gone through for roughly $400-500m Calcalist reports. Apple could also use the buy to set up an Israel-based R&D center, it's suggested.
Although neither company has yet officially confirmed the deal, Israel's Prime Minister seems to have decided it's all legitimate enough to comment. "Welcome to Israel, Apple Inc. on your 1st acquisition here" the official Twitter feed said earlier today, "I'm certain that you'll benefit from the fruit of the Israeli knowledge."
Anobit's speciality is its "Memory Signal Processing" (MSP) tech, signal processing algorithms that promise "a dramatic improvement" in speed, longevity and system cost in addition to various complex error correction and flash memory management systems. MSP is included in both Anobit's MSP20xx embedded flash controllers for tablets and phones – supporting up to 256GB of flash – as well as in the company's Genesis-branded enterprise SSDs.
"MSP enables SLC (one bit-per-cell) endurance and performance with MLC (two bits-per-cell) NAND, and MLC endurance and performance with TLC (three bits-per-cell) NAND, resulting in a significant reduction in cost per-bit" Anobit
According to 9 to 5 Mac, Apple is yet to formally bring Anobit's exec team into the fold, but that is likely to happen soon. Apple is rumored to be considering replacing all traditional drives in its future MacBook Pro models with solid-state storage.