Apple's '12 Days of Gifts' promo noticeably absent this year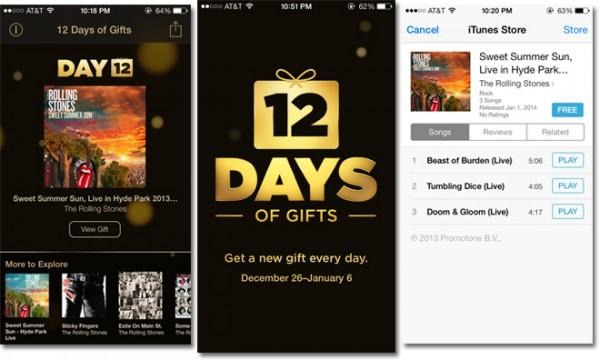 Bad news this year for bargain iOS app hunters: It appears that Apple has no plans to offer its "12 Days of Gifts" promotion as the year 2014 winds down. For the past six years, from December 26th to January 6th Apple offered a free download each day to iOS users, with freebies including apps, games, and songs from iTunes. Seeing as how it's already December 28th and there's been no sign of the "Gifts" app itself, or word from Apple about the promo, it's a safe bet that we won't be seeing it this year.
Since 2008, the year the iOS App Store launched, a 12 Days of Gifts app became available during the weeks just before Christmas. The free downloads began on December 26th, and each day users could check the 12 Days of Gifts app to find out what Apple was giving away.
Macworld wrote on Christmas Eve that it was believed Apple was skipping the giveaway this year, however with no reason given, and now we can safely label that rumor as confirmed. It's anyone's best guess at this point if the promotion makes a return next year.
However, those desperate for free apps need not feel burned by Apple, as they continue to make one paid app free each week on the "featured" page of the App Store. Even more so, just browsing Apple's curated collections makes it easy to find popular, free apps. If that's not enough, there's always the top downloads tab that presents the most popular apps in lists for both paid and free.
SOURCE Apple Insider