Apple White MacBook Specs Updated: Better CPU & Graphics, 2GB RAM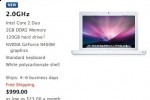 Apple have quietly updated the entry-level white plastic MacBook to bring its specifications further in line with the new-design unibody MacBooks, including an improved 2.0GHz Core 2 Duo processor now with 1,066MHz frontside bus.  Also changed are the memory, which doubles to 2GB of 667MHz DDR2 SDRAM as standard, and integrated graphics courtesy of NVIDIA's GeForce 9400M.  The price remains at $999.
Other changes are trickier to spot.  Bluetooth has received a mild upgrade, from v2.0 on the previous-gen white MacBook to Bluetooth v2.1 on this new update, but otherwise connectivity remains the same and there's no sign of the faster, DDR3 memory that was introduced on the unibody MacBooks.
The initial assumption is that Apple are attempting to bring their most basic MacBook in line with their own OpenCL GPU requirements for the upcoming OS X Snow Leopard operating-system.  OpenCL will allow the MacBook to use the graphics processor not just for video work but for general processing as well.
[via Engadget]