This week Apple released three big updates to their Beta software to developers for multiple devices. This includes Apple's OS X 10.11 El Capitan Beta for developers, build 15A204h, as well as updates for mobile devices. For iPhone and iPad, iOS 9 Beta 2 has been seeded. Apple's second WatchOS 2 Beta has also been seeded for the Apple Watch. All of these updates are accessible by hitting the "Software Update" button in each respective developer-signed device. To access Apple WatchOS 2's update, the user must have iOS 9 Beta installed on their connected device.
OS X update
OS X 10.11 El Capitan Beta brings build 15A204h, changing the systemwide font for all those that hand't before done so. This update doesn't change a whole lot from the first release, as shown in our OS X El Capitan Preview released earlier this month. It does add a number of bug fixes and performance improvements as well as connectivity between desktop and mobile devices.

See our Apple Hub for more information on this and future software and hardware updates!
Apple Watch update
This Apple Watch to WatchOS 2 Beta 2 update requires that the user be signed up with Apple as a developer – this is also true of the updates below for OS X and iOS. To install this update, the Apple Watch must be connected to a charger or have at least 50% battery to install.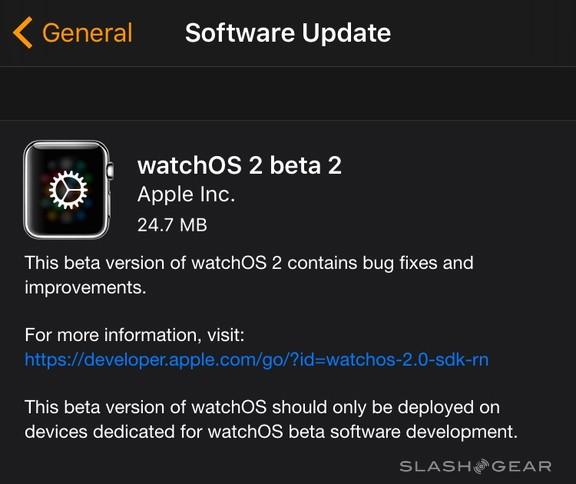 While this version of the software is mostly for bug fixes, WatchOS 2 also brings on a number of features for developers to work with before release to the general public. This includes access to Taptic Engine and the ability to run apps "natively" on the device.
iPhone / iPad update
The update to iOS 9 Beta 2 is build 13A4280e and can be loaded through your standard update process in settings. If you're a developer, that is to say.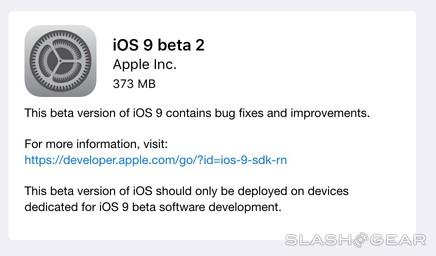 This update includes bug fixes for oddities presented in the first beta earlier this month. This include AirPlay connectivity being improved, a fix for the Mail crash when printing, and password changes in the Family section of iCloud no longer crashing the system.
Several apps have been improved – quicker, less prone to crashing. These include Maps, Mail, Notes, and possibly more – we'll let you know if we see anything else odd along the way here.
This update also bring iOS 9 split-screen multitasking for the iPad. The new keyboard also pops up here, while performance has been increased across the board.
Multiple sources suggest that this update brings a boost in battery life. While we're not certain on the battery issues presented earlier this year being fixed, it's suggested today that at least one hour of additional battery life has been added in general.
It's also suggested that Low Power Mode – new, that is – ads far more battery life. We'll let you know as we go into extensive testing.
The standard iOS 9 Beta release is scheduled for July, and final full release is expected this Fall.
UPDATE: This release does not include an update with Apple Music. We'll be expecting that release in coming weeks.