This is how the new Apple Watch's mesmerizing motion faces were made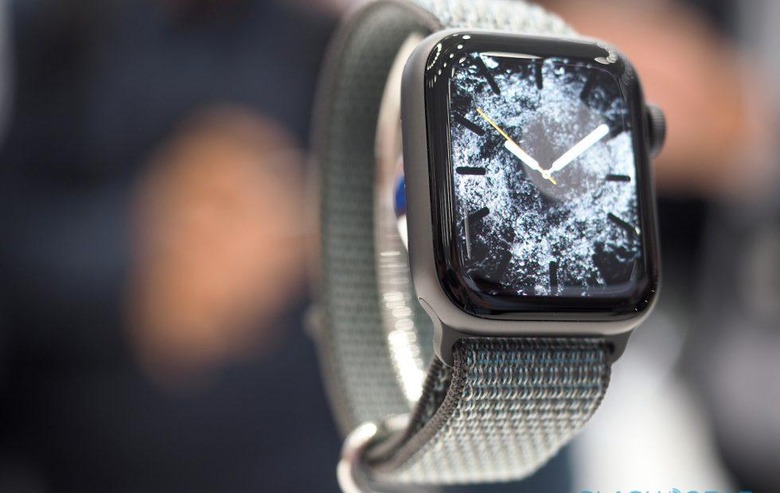 The Apple Watch Series 4 may have made headlines with its ECG sensor and much larger display, but it's the new "motion faces" that arguably show just how much attention to detail the Cupertino company will go to. Added as part of the fourth generation watch, the new fire, water, liquid metal, and vapor faces aren't, as you might have first suspected, CGI.
Instead, Apple went to the effort of actually creating them for real: fire and all. Each of the faces highlight the new, larger displays on the two sizes of Apple Watch Series 4, with fire, liquid, colorful smoke, and more flooding the screen and rebounding off the edges. With nothing but watch hands on-screen at the same time they're a far cry from the complication-filled other faces the Series 4 debuts.
That's because it would be a shame to cover up what the Apple design team has done, beyond the bare essentials. "We probably could have done this digitally, but we actually shot all of this practically in a studio," Alan Dye, Apple Vice President of User Interface Design, told Hodinkee of the new faces. That included building oversized watch enclosures that could be filmed with a high framerate camera.
So, for the liquid metal motion face, Apple made a watertight enclosure and filled it with what looks like mercury. It then suspended a camera above, and proceeded to slosh the mercury around to make the distinctive metallic ripples.
For the smoke faces, meanwhile, Apple used different colored powders, each erupting into a perspex cone. The water face saw the designers create turbulence and eddies with immersed impeller blades and other moving components. However, it's probably the fire which is the most dramatic. That, Apple's Dye says, meant some sacrifices on the part of the team's hard work.
"There are of course art directors, and color experts, and graphic designers," he explained, "but also model makers who helped build these structures that we would eventually, you know, set on fire."
Both square versions and circular versions of the motion faces have been recorded, and those with watchOS 5 running on earlier Apple Watch models will be able to get the latter, too. Certainly, Apple could've made all this digitally and probably had it look much the same as it does now. Going to the extra effort, though, underscores not only its attention to detail but the face that, though it may be digital not filled with complex cogs and jewels like a classic watch, that doesn't mean the Apple Watch isn't a worthy timepiece in its own right.