Tim Cook's Apple Watch sales coyness does Apple no favors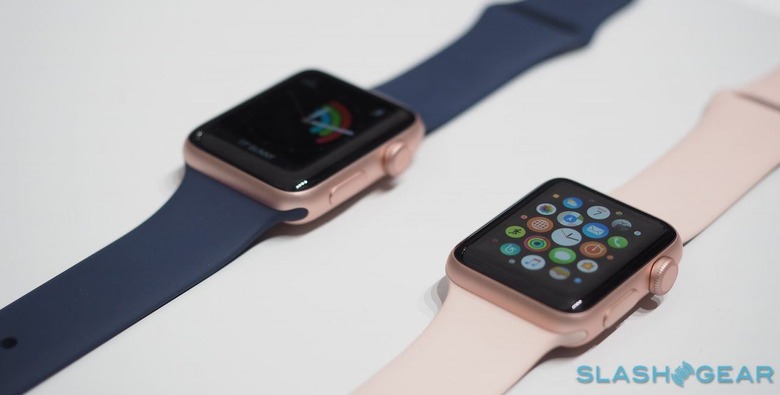 Apple CEO Tim Cook has defended Apple Watch sales, after a damning report on the state of the wearables market criticized the recently-updated smartwatch. According to IDC, Apple was the fourth largest wearable device vendor worldwide in the third quarter of 2016, with just under 5-percent market share. That's despite what IDC says is a whopping 71-percent decline in growth compared to the same period twelve months ago.
IDC's numbers claim 1.1m Apple Watch shipments in the three month period ending September 2016. That's versus a stated 3.9m in Q3 2015, when Apple was said to have more than 17-percent of the wearable market. The big winner in IDC's growth numbers is Samsung, with an 89-percent increase year-on-year.
Even so, Samsung is still in fifth place with 1m shipments in Q3 2016. Its market share from devices like the Gear S2 is 4.5-percent, IDC says, while smart headphones like the Icon X also helped. However, exactly what portion of those shipments was made up of bundles with phones like the Galaxy S7 and Note 7 is unclear.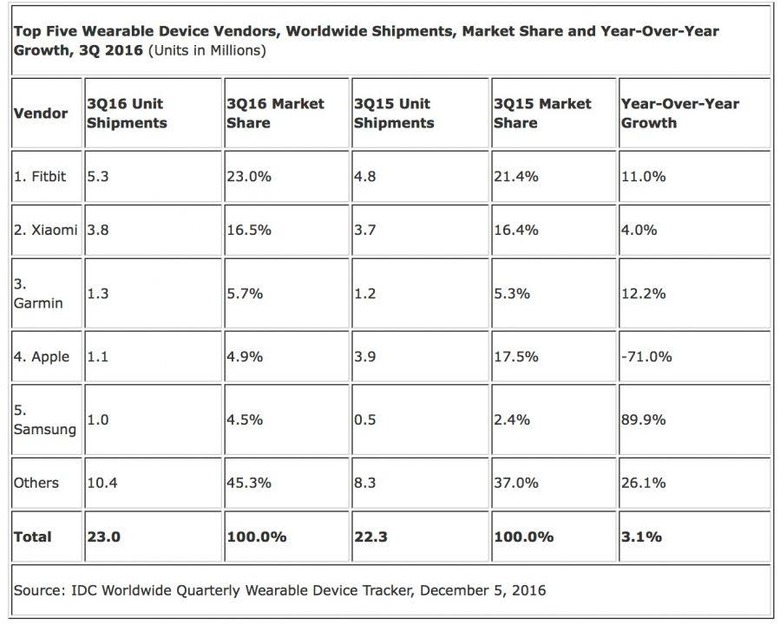 Apple did, of course, release the Apple Watch Series 2 in mid-September, though the overlap with Q3 is minimal. IDC does recognize that it addresses some of the lingering complaints leveled at the first-generation wearable – "an aging lineup and an unintuitive user interface" – but argues that "Apple's success will likely be muted as the smartwatch category continues to be challenged."
Apple CEO Tim Cook promptly made a defense of Apple Watch, apparently in reaction to the critical analyst figures. In an email to Reuters, Cook said that the company's own data suggests "that Apple Watch is doing great and looks to be one of the most popular holiday gifts this year." Indeed, he predicted, the wearable is set to break sales records.
"Sales growth is off the charts. In fact, during the first week of holiday shopping, our sell-through of Apple Watch was greater than any week in the product's history. And as we expected, we're on track for the best quarter ever for Apple Watch" Tim Cook, CEO, Apple
However Apple still refuses to release specific Apple Watch sales figures. The wearable is lumped in with the "Other Products" in the firm's quarterly financial reporting, along with sales of Apple TV, Beats products, iPod, and Apple-branded and third-party accessories. That contributed $2.4bn in the most recently reported quarter, but there's no way of knowing for sure what percentage of that was made up of Apple Watch sales.
That reticence, and glowing-but-vague comments like Cook's, are unlikely to do much to bolster confidence in the wearable, and with watchOS 3 putting greater emphasis on standalone apps for Apple Watch, it comes at a time when the company needs all the developer enthusiasm it can find. Opting to withhold details is generally interpreted as there being no good news to report. Meanwhile, it's notable that the bulk of wearable sales in IDC's report come from cheaper, more basic fitness trackers rather than the smartwatches many assumed would supplant them.
MORE IDC