Apple Watch preorders begin with 3rd-party jeweler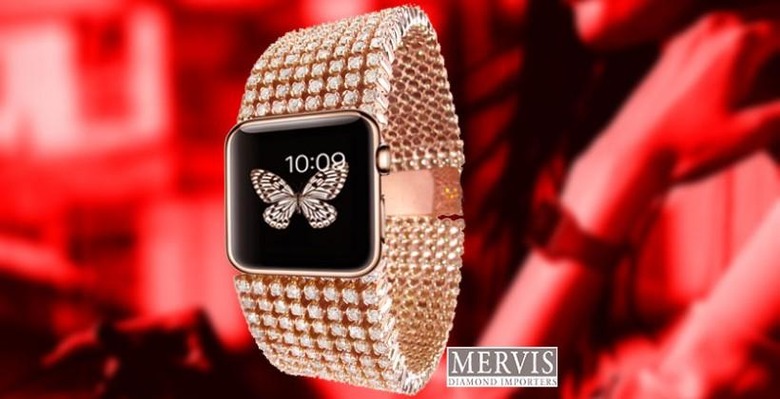 It's not entirely unlike a 3rd-party retailer to suggest that they've got an Apple product early. What the jeweler Mervis Diamonds has done is to put their unique version of the Apple Watch up for pre-order – even though they're not entirely sure when the watch will be released. The Mervis Diamonds Apple Watch – their first "Watch edition" version of the device – will be released with an 18 karat gold tennis bracelet with 8 rows of diamonds. Can you guess how much this device will cost?
The Diamond-studded Mervis Diamonds "Watch edition" Apple Watch will cost you a cool $30,150 USD. That's just their general limited edition in 18-karat Rose Gold.
The diamonds in this watch are graded E/F in Color and VS1/VS2 in clarity as certified by the Gemological Institute of America (GIA) – that's high quality. In total, you'll be rolling with 15.14 carats worth of diamonds around your wrist.
Mervis Diamonds also has the ability – and say so – to create a unique Apple Watch creation with diamonds-encrusted white gold or platinum. Those releases will cost you a few more bucks.
Mervis Diamonds suggests that they expect pre-orders to be delivered by June of 2015, but without guarantee. Their release is entirely dependent on Apple's schedule, which we do not know whether or not they possess.
Below you'll see our first-impressions with the Apple Watch from earlier this year.
You'll also want to have a peek at additional photos of the Watch Edition as presented by Apple. Here you'll find the same butterfly background as presented by Mervis Diamonds in their edition of the device shown above. Their release is, of course, a rendering.
So don't get too pumped up about being able to see another version of the Apple Watch well before it's released. You'll get to check the real deal out later next year.