Apple Watch hands-on
Apple has made its play for the wearable space, and the Apple Watch will be the thundercloud hovering over all other smartwatches until it makes its retail debut next year. Unmistakably an Apple product, but with some of the innovations we've come to expect from the firm, it's a confident step from an industry heavyweight into a space ripe for dominating. Read on for some hands-on first-impressions.
This is no plastic Swatch. Apple's choice of metals for the casing, and the size of the watch, all contribute to it feeling premium and solid. The tech integrates beautifully, too, such as the way the cover glass sinuously blends into the body.
The tech works, too. Shifting many of the interactions – especially those which might demand two fingers or a lot of tapping on the iPhone or iPad – to the Digital Crown dial on the side is a genius use of a traditional control, and it works very well.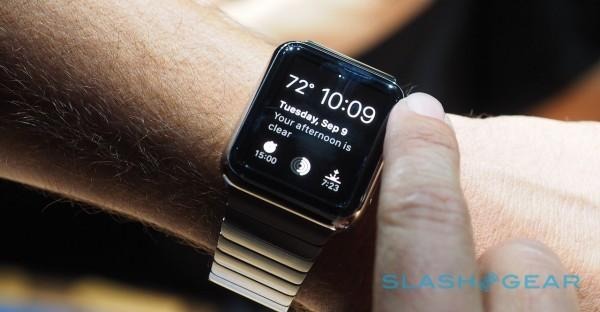 The display itself is bright and vivid, even if you're glancing down your arm at it, and the touch tech is sensitive. I particularly liked how Apple has thought about how Apple Watch wearers might communicate in different ways from their wrists.
Yes, there are preset messages to reply to SMS, and you can instruct Siri just as you might on an iPhone or iPad, but sketching out a shape, letter, or other glyph with your fingertip and sending it across to someone else just feels "right" for the form-factor. it's the sort of thing – a new tech language, perhaps – that depends hugely on how many other people can actually receive the messages you send, but even with a $349 price tag I've a suspicion Apple won't be short of buyers.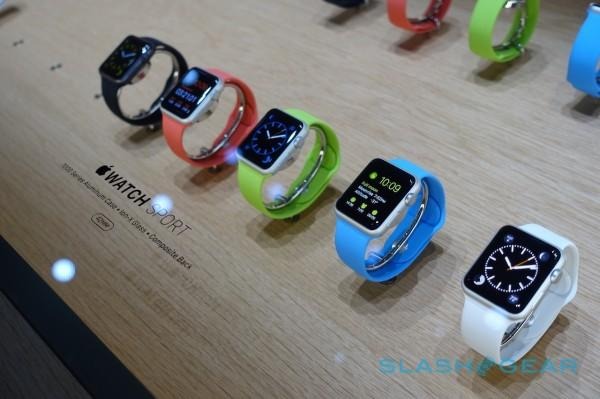 What helps differentiate the Apple Watch from other smartwatch attempts is the sheer range of options and customizations possible. Other platforms perhaps allow for a couple of strap changes, and maybe two or three case colors; Apple, on the other hand, has put out a full three ranges of different options.
Different straps, different clasps, different colors of straps and clasps; metal, leather, rubber, and all in different colors and finishes. That's before you get to the variations in casing color and even material, ranging to premium 18 karat gold.
Even the two sizes – 42mm or 38mm, to suit smaller wrists – borrows a lesson from the traditional timepiece space. Considering most of the smartwatches already on the market come in one size only (and that size is generally chunky), it's another sign of the consideration Apple has been put in.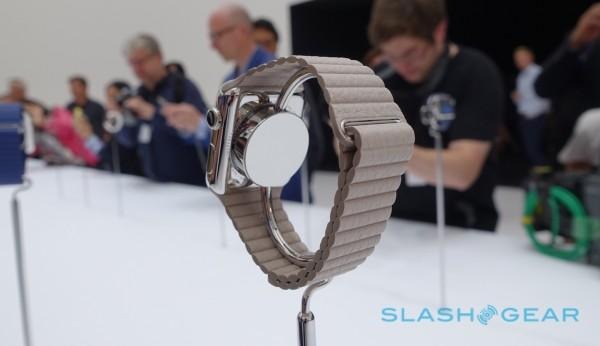 There's still a lot to see before the Apple Watch is ready for prime-time, mind. Many of the apps and services aren't ready yet; I couldn't see the Apple Maps app, for instance, and even the titles that were functional were in some cases little more than partially-functioning demos.
Biggest mystery, though, is battery life. Apple isn't saying exactly how long the Apple Watch will run for, though Tim Cook pushed the convenience of the magnetically-attached charger during his presentation. That's been one of the biggest issues with other platforms, and – for all Apple's hardware's charm – it'll be make-or-break for the Apple Watch.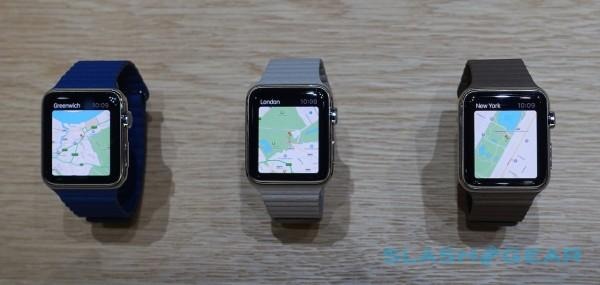 Still, there's a sizable cloud now hanging over rivals in the wearable space. Apple may not have its smartwatch on sale yet, but many will simply hold off on picking up another model – or even jumping ship to Android for, say, the Moto 360 or LG G Watch R, with their eye-catching circular displays – until the Apple Watch is available.
In the meantime, there'll be room for developers to get onboard with WatchKit and make sure the wearable launches with a suitably broad range of apps beyond what Apple demonstrated today.