Apple Watch patent lets you fist bump to share files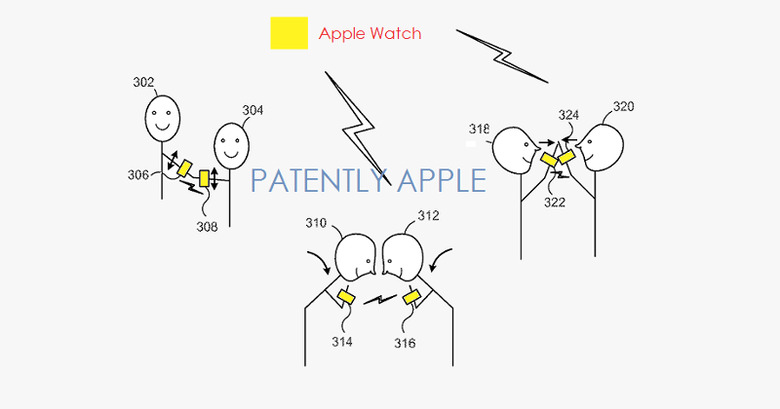 Apple may have invented AirDrop to make wireless sharing of files a breeze, easier than NFC even, but that same convenience doesn't exactly translate to the Apple Watch, where screen space and taps are at a premium. Luckily, Apple has a few things in mind. It has recently filed a patent that details the use of gestures, from handshakes to high fives and even to respectful bows, to initiate and exchange of information. Sometimes, it can even do all of those automatically with very little or no user intervention.
Although equipped with touchscreens, smartwatches are terrible for touch-based control given the surface area. They are, however, excellent for gestures considering they are already worn on a wrist and have a plethora of motion sensors installed. The genius to apple's idea, however, is in reusing gestures that two people use to exchange greetings to also exchange data.
Utilizing sensors to determine movement as well as wireless connections like NFC, Bluetooth or Wi-Fi to determine proximity, the future gesture-based system could ascertain that a gesture was made in order to exchange information. The range of gestures covered is quite large, including those that involve physical contact, like shaking hands, bumping fists, or slapping hands, as well as those that are performed at a certain distance, like bowing, waving, or saluting. And it doesn't even have to be just Apple Watch to Apple Watch, as it can also involve an iPhone as well.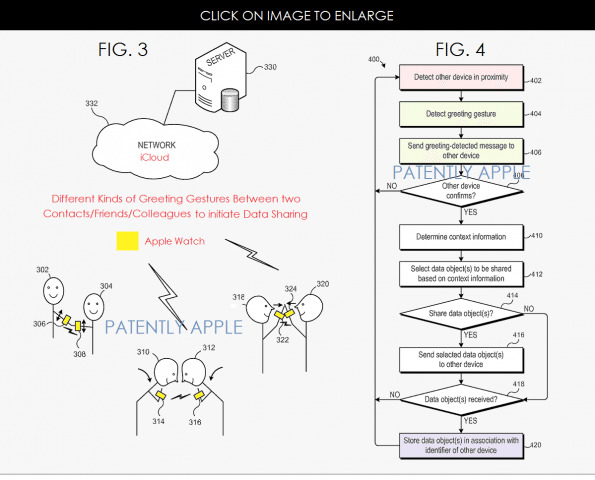 That's only half the story. The other part of the patent talks about the kind of information that is transferred and when. Context can help determine the type of data sent over. In business meetings or occasions, work contact details are more often than not more important. In social settings or parties, it's personal information that gets conveyed. The transfer of data can happen after a gesture has been made or the two parties can agree to use a specific gesture first before performing it. Data can be sent right on the spot, or a key to a server, like an office network, can instead be given for later retrieval of authorized information. In some cases, the exchange can even happen all automatically without the user having to explicitly authorize the transfer, which could bring up some privacy and security questions.
As interesting as the patent itself may be, equally interesting are the hints about future devices that are scattered in the patent filing as well. For one, if interpretation is correct, future Apple Watches may come with a camera or even, strangely, a headphone jack. Apple seems also be planning ahead for other wearables, including smart jewelry, smart eyewear, and even smart clothes. Again, it should be noted that this is simply a patent and is no guarantee that any, much less all, will be implemented any time soon.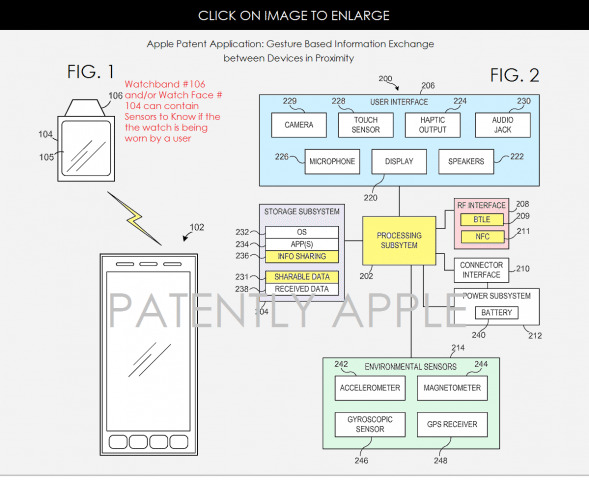 VIA: Patently Apple