Apple Watch doubted like iPhone: launch may be massive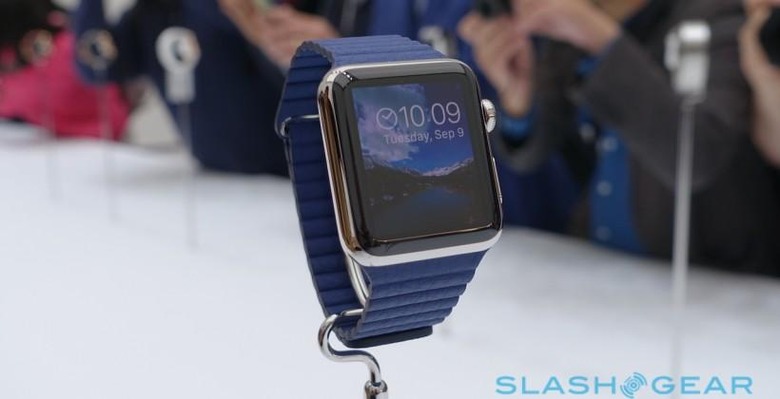 Morgan Stanley isn't pulling any shots with their investor notes on the release of the Apple Watch in 2015. The industry view is cautious, they say, cautious just like they were before the launch of the iPhone in 2007. Cautious, they say, just like the industry was before the launch of the iPad in 2010. With the "wearables" industry ramping up a lot quicker than the smartphone or tablet industry ever did, Morgan Stanley says Apple will be able to sell an Apple Watch to 1 out of every 10 iPhone users.
Morgan Stanley reported this week in an investor note that Apple will likely sell 30 MILLION Apple Watches in the 2015 calendar year. That's a 10% penetration rate for the iPhone user base, and around three times the "buy-side view" in the market today of between 10-12 million units.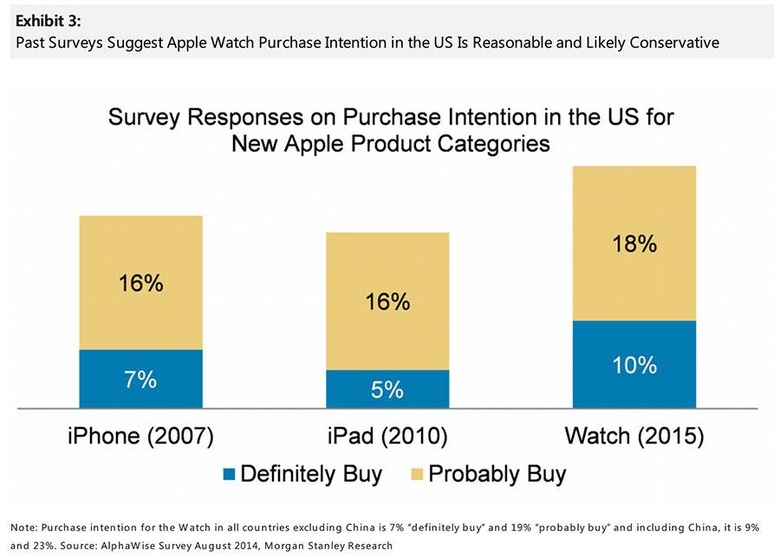 The team at Morgan Stanley cite "the Street" when they suggest skepticism has been high for both of Apple's major mobile device releases, with both the iPhone and the iPad, suggesting the following:
Device / Street Expectation / Actual Sales
iPhone / 9M units / 12M units
iPad / 5M units / 15M units
Apple Watch / 10-12M units / Unknown
Those numbers are predictions before sales for the calendar years in which the devices were launched, then final numbers. The iPad sold more in its first year thanks in part to the iPhone, which in 2010 had already become a staple in the public consciousness.
Back in 2007, the iPhone didn't sell more than 12 million units in its first year on the market because they played such a bit part in MAKING the market.
The 10% iPhone user penetration rate takes into account only Apple iPhone 5 or newer exiting 2014.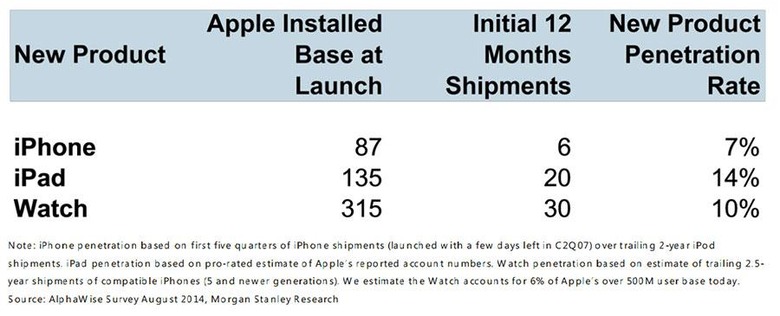 Morgan Stanley also does a strange comparison chart for "new product penetration" rates for launch years, taking into account previously released Apple products. While you might say yes, it makes sense to compare potential Apple Watch buyers to iPhone owners AND potential iPad buyers to iPhone owners, what about iPhone buyers?
When you try to compare the "penetration rate" of the iPhone's first year to the iPad and the Apple Watch, what do you compare to?
Morgan Stanley decided to compare to the iPod.
Here are the notes from Morgan Stanley's penetration rate chart:
Note: iPhone penetration based on first five quarters of iPhone shipments (launched with a few days left in C2Q07) over trailing 2-year iPod shipments. iPad penetration based on pro-rated estimate of Apple's reported account numbers. Watch penetration based on estimate of trailing 2.5-year shipments of compatible iPhones (5 and newer generations). We estimate the Watch accounts for 6% of Apple's over 500M user base today.
Source: AlphaWise Survey August 2014, Morgan Stanley Research
So yes, it's possible that a lot of iPhone owners will buy Apple Watches. No, it doesn't make a whole lot of sense to compare these numbers to "penetration" of iPod buyers vs iPhone buyers in 2007.
Is it just as easy to think of an Apple Watch as an extension of the iPhone experience as it was the iPad? Probably not. That's reflected in the chart above as well, if you like comparing iPad/iPhone penetration at launch to the potential for Apple Watch and today's iPhone ownership.
That's on you!