Apple vs Android: winning in hardware, winning in software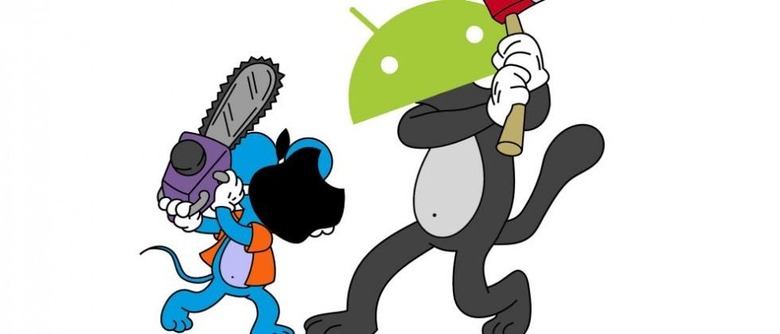 While Apple wins in Hardware in the United States, Android wins in software. So says the most recent report on smart device usage in the United States. This week comScore has released their report mobile device usage in the month of February 2015 for the USA. This study showed the three month average starting in December of 2014, ending in February of 2015, and studied smartphone subscribers ages 13 and older. As you can probably guess already, Apple and their 2nd-place opponent Samsung are still neck-and-neck here in 2015 for hardware market share.
This study was done with MobiLens, system in which ComScore surveys smart device users throughout the United States on their smart device usage.
In the 3-month period ending in February of 2015, it was found that Apple continued commanding the US market with a 41.7-percent share. Samsung came in second with 28.6-percent of the mobile market for hardware, while LG, Motorola, and HTC came in 3rd, 4th, and 5th with 8.3%, 5.1%, and 3.8% respectively.

The strangest part of this study is the amount of change that occurred between 3-month periods. There was almost none.
The biggest change was Samsung, which fell by 1.1-percentage point. Every other brand stayed within less than one percentage point change from 3-month period to the next.

Meanwhile Android took a narrow lead over Apple in the Smartphone Platform category. I say narrow because it was 52.8% going to Apple and 41.7% going to Android – but then again, like the hardware portion of this study, point changes were TINY.
The biggest change was a 0.2-percent boost in market share between 3-month periods.
While Android and Apple dominate the smartphone platform market in the United States, Microsoft, BlackBerry, and Symbian trail with 3.5%, 1.8%, and 0.1% respectively.
Darn it Dan, you always have to come in with your old Symbian phone just to make the fifth place marker look strange.