Apple users updating to iOS 6 122% faster than iOS 5

Apple's new baby in the iPhone 5 and iOS 6 has been getting plenty of attention, and with good reason. Aside from a few hiccups with Maps, iOS 6 has been doing extremely well across the board. When it started rolling out as an over the air update earlier this week, Apple users were excited and updating by the millions.
Earlier this week we reported that over 15% of devices had been updated within the first 24 hours, which may sound like a small number, but compared to updates on Android — is actually quite high. Add in the fact that it was just the first day, iOS 6 has been doing exceptionally well.
Today reports are coming out from multiple analytics companies, and reports from TechCrunch state the overall upgrade and adoption rate for iOS 6 is massive. iOS 6 adoption rate is significantly higher than iOS 5, to the tune of around 122% faster. This time around it's also an over-the-air update, making it a much simpler process for the millions and millions of iOS users.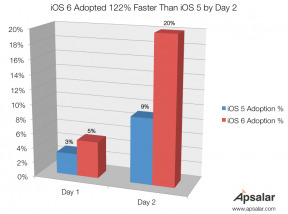 Finally being able to update OTA and not requiring a cable and iTunes makes this a very simply and easy processor for the masses. If you're already enjoying iOS 5 you simply can update right on your device. This could be a large part of why the adoption and update rate is seeing such massive numbers — but that isn't all either. iOS 6 brings tons of fantastic features to everyone. If you sadly can't get the latest and greatest with a 4-inch screen, you'll surely want all those new Siri, Passbook, Maps, and other features that makes the iPhone and iOS 6 so excellent. We are also hearing many developers praise the update, saying the transition has been smooth and support for iOS 6 has been easy.
If you haven't bought the iPhone 5 today or are rocking an older device, have you updated to iOS 6 yet?