Apple TV's Guitar Hero Live, Disney Infinity have one caveat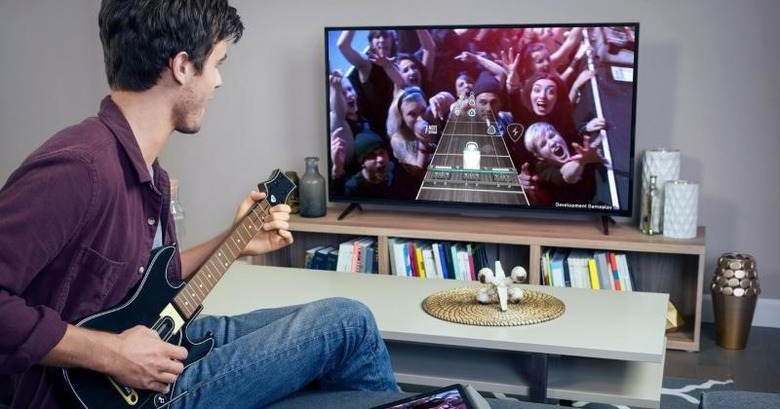 Like it or not, the new Apple TV marks a new phase of gaming in the company's digital life. Naturally, there are already games announcing their support for the new living room device, some of which, like Crossy Road, might already be familiar to mobile gamers. But now even more "serious" titles are coming our way. Activision and Disney Interactive have revealed that games like Guitar Hero Live, Skylanders SuperChargers, and Disney Infinity 3.0 will be playable on the new Apple TV, but there is a very small catch.
The games in particular rely on some not so standard gaming controls and paraphernalia. Guitar Hero, for example, needs, well, a guitar. Skylanders and Disney Infinity, on the other hand, make use of bases, Some of these make use of Bluetooth to connect to devices. And anyone who has developed accessories for Apple's devices should know how Cupertino likes to keep things under its tight control, under its "MFi" certification.
The good news is that gamers won't have to worry that much about such matters and leave it to the hands of the game makers. Since Bluetooth-enabled Skylanders SuperChargers portals and controllers were already certified for the iPad, those will work with no problems on the Apple TV as well. Activision also has a new set of Bluetooth instruments that are all MFi-certified. Disney, on the other hand, will still be coming out with a new MFi-compliant Bluetooth base for Infinity.
This requisite for new and unique controllers might at first be a stumbling block for publishers and developers who might want to bring their entertainment software to the new Apple TV. For example, there is no standard game controller yet for the box, aside from the new remote controller that can be reused for such purposes. At least to some extent. That shouldn't' be a problem for long though, knowing Apple.
Geometry Wars 3: Dimensions Evolved will also be joining Activision's Apple TV catalog. For those more interested in Disney's virtual world, there will be a special starter pack available later this year that will include, aside from the base, Anakin Skywalker and Ahsoka Tano figures.
SOUCE: Activision, Disney
VIA: Engadget