Apple TV v2.3.1 update yanks Boxee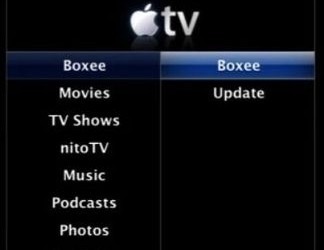 Apple have released a new update for the Apple TV, version 2.3.1, and users have discovered that it unceremoniously dumps the unofficial Boxee plugin from their set-top box.  Boxee is an open-source media player, and by installing it onto the Apple TV the STB is able to play just about any DRM-free multimedia file, rather than simply Apple's own iTunes content (or files specifically compatible with iTunes).
One of the options during setup of Boxee is to disable automatic Apple updates.  This is looking like good advice, as version 2.3.1 was pushed out by Apple with no warning and gave no insight as to what it would do to the Boxee plugin.
Apple is playing coy with details on whatever feature changes and bug fixes version 2.3.1 brings with it, so we're still waiting to hear from users the full list of modifications.  Early feedback suggests the Apple TV is quicker in operation using the new firmware, but there are no obvious headline functionality additions.
[via MacMerc]