Apple TV hands-on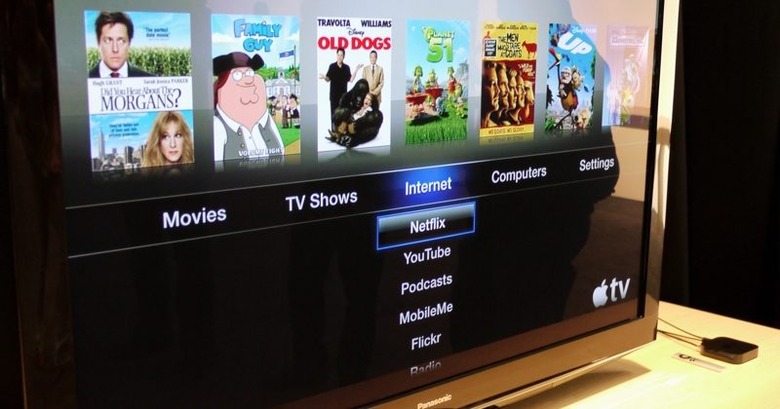 The rumors were true, the Apple TV really has slimmed-down, gotten wise to streaming and turned itself into an affordable and tempting home entertainment device.  We grabbed some hands-on time with the impressively compact media player after the Apple keynote, and while we'll need to get one into our living room to know exactly how well the Apple TV's new rental focus delivers, we've still got some first impressions after the cut.
Ditching the hard-drive and switching to Apple's A4 processor has obviously meant the Apple TV can be smaller, but it's still a surprise when you first encounter it.  Palm-sized, fanless and with no moving parts, it's silent just like a Roku or Netflix box, but comfortably exceeds it on features.  The bundled aluminum remote – which has been available for some time now – has just enough controls to navigate through the straightforward UI, though we did find ourselves wishing for a QWERTY keyboard like the Boxee Box by D-Link will offer.
On the back, connections are pared down to just HDMI, optical digital audio, power and ethernet – 10/100 rather than gigabit – and so hooking up the Apple TV will be reasonably straightforward as long as your HDTV is relatively recent.  There's a microUSB port, too, though Apple tells us that will only be used for "service and support"; presumably loading new versions of the custom OS that the Apple TV runs.  Contrary to the early rumors, there's no iOS App Store on here, but that's certainly something Apple could deliver in a future firmware update should they decide to.
Navigation is quick and simple, and picture quality was impressively high given the speed at which the streams began.
The Apple TV is available for preorder now, priced at $99, with deliveries expected in around four weeks time.