Apple told to make several changes to San Francisco retail store design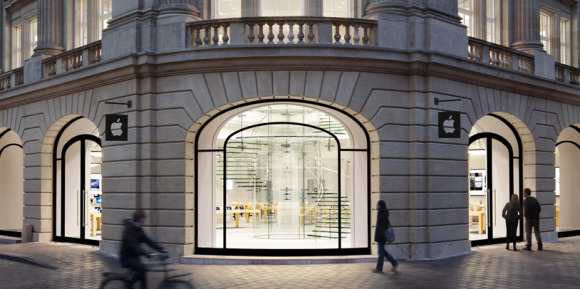 In May, Apple submitted a proposal to move its San Francisco retail store about three blocks to a new location in Union Square, where many up-and-up shopping establishments are located. While such a change was welcomed by the city, not everyone was happy with some of the design plans, one of which, for example, involves taking down a sculpture/water fountain. The proposal has been analyzed, and Apple is being told some changes need made.
The suggested changes were published by San Francisco's Planning Department, which said it would like to see several alterations to the design, including a removal of the massive glass wall in favor of something else featuring visual elements, whether that be color or textures or something else altogether – basically, "Not so much glass."
And speaking of the sculptural water fountain, which is located near a public plaza, the Planning Department is encouraging Apple to rework its design so that the foundation can be part of the overall premises, rather than being rooted and discarded. The artwork in question was created by Ruth Asawa, who is a popular artist in the city. Regardless, we won't have to wait long to hear the final verdict, according to SF's mayor.
For those curious about the entire gamut of proposed changes, the Planning Department has the entire report available for all to see. There's no word on when Apple wants to begin construction on the new store, nor when the current one will be transitioned over. Apple hasn't made any statements in regards to the proposed changes, and it will be interesting to see how the company will respond.
SOURCE: MacRumors