Apple Tokyo store opens early for iPhone campers caught in typhoon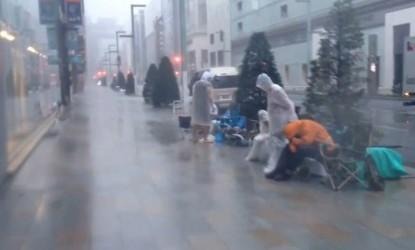 Apple fans are notorious are camping out weeks ahead of the launch of new devices. With the new iPhone 5S and iPhone 5C set to launch soon, campers are already waiting in front of the Apple store in Tokyo, Japan. The Apple store in the Tokyo Ginza district has its share campers out front and the city has been hit by a typhoon.
Rather than leaving the camping geeks out front in the weather, the Apple store has reportedly opened early and let the campers inside. Employees at the Tokyo Apple Store reportedly let the iPhone fans into the store at around 7:30 AM. In addition to letting them sit in chairs inside the vacant store, the wet campers were also given bottled water and allowed to stay inside until the store opened at 10 AM.
It's interesting that the campers didn't leave their exposed positions outside because the storm was no surprise. Warnings of high winds and heavy rain had been issued previously. However, these iPhone 5S and 5C opals weren't dissuaded by inclement weather and opted to stay.
I can only imagine how miserable they were before Apple employees let them inside the store. Since the new iPhone models don't go on sale until September 20, it remains unclear how long Apple will allow these customers stay inside and how exactly they're going to get back to their places outdoors before other iPhone campers turn up.
SOURCE: JDP