Apple to axe 17" MacBook Pro then "Pro" brand altogether tips analyst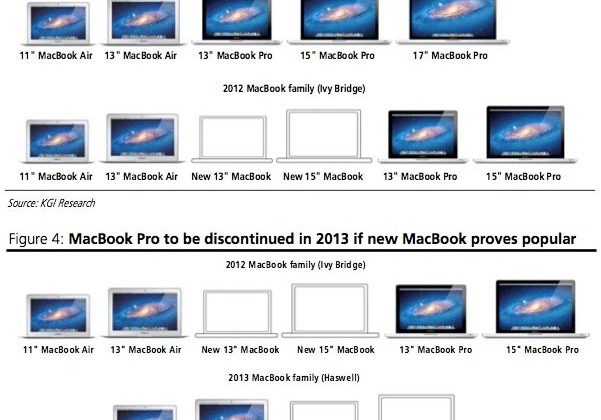 Apple could not only retire the 17-inch MacBook Pro in 2012 but axe the entire "Pro" range, analysts have suggested, replacing it with a "new MacBook" brand in 2013. The cull, predicted by KGI analyst Ming-Chi Kuo, follows long-standing speculation that the largest MacBook Pro – which accounted for just 1.7-percent of Apple notebook sales in Q1 2012, Apple Insider reports – will not be included in the widely anticipated WWDC 2012 refresh next week.
Instead, it's expected that only the 13- and 15-inch MacBook Pro models will be updated, with new processors tipped along with a high-resolution Retina Display. There's also believed to be a new design, a departure from the current MacBook Pro chassis that has lingered the past few product cycles, and borrowing instead from the wedge-styling of the MacBook Air.
Kuo's prediction is that Apple will, based on the response to the new models expected next week, trim its notebook range to just four. There will be two MacBook Air sizes, of 11- and 13-inches, it's suggested, and two MacBook Pro sizes, 13- and 15-inches, renamed "the new MacBook".
Those 2013 models are likely to use Intel's next-gen Haswell chips rather than the current Ivy Bridge processors. We'll know more details next Monday at the WWDC 2012 opening keynote, which SlashGear will be liveblogging at live.slashgear.com from 10am PST on June 11.