Apple support document confirms upcoming MacBook & MacBook Pro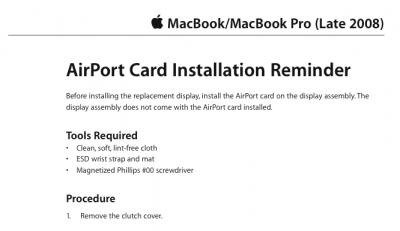 While there seems little mystery to the fact that new laptops are being announced on Tuesday, Apple still like to keep up their clandestine facade.  In a PDF document initially published to their support site, and since taken down, the company refers to the "MacBook/MacBook Pro (Late 2008)", presumably the models that will take the stage this coming week.
The document itself reveals very little, basically describing how to replace an Apple laptop display and reminding users to install their AirPort card beforehand.  Other than the model and date mention at the top, there is no reference to the new MacBook and MacBook Pro notebooks we're expecting on Monday.  Still, it was enough for Apple to pull the document.
SlashGear will be Live Blogging the Apple MacBook event this coming Tuesday, kicking off at 10am PST and then following through the day with news, hands-on reports and opinion.  Join us at http://Live.SlashGear.com/ on October 14th!
[via MacRumors]