Apple sued over iPhone, MacBook multitouch patents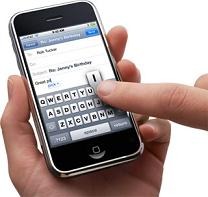 Apple is being sued by Elan Microelectronics, a Taiwanese chip designer, over alleged infringement of two touchscreen patents by its MacBook, iPhone and iPod touch ranges.  According to Elan, the contended IP covers technology used to recognize the position of a finger on a touchscreen or trackpad; they're now pushing for an injunction against the contentious products, which – if granted – would freeze much of Apple's range.
While it's not uncommon for IP-holders to take on Apple over supposed patent infractions, Elan claim to have prior form with their case.  The company says it has previously won a similar action against Synaptics, who make both trackpads and multitouch panels used in displays.  Elan have not revealed how much compensation from Apple they have in mind.
Elan Microelectronics has previously denied that Apple's contentious multitouch patents impact on the Taiwanese company's own multitouch IP.  That patent, awarded to the Cupertino firm back in January 2009, has cast a shadow over many other mobile devices using capacitive touchscreens; Google reportedly withheld multitouch support from their Android mobile platform at Apple's request.