Apple Store is down, no surprise whatsoever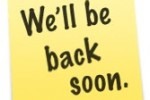 Hey, will you look at that – the Apple Store is down and the Cupertino company is "busy updating" it.  How are we supposed to buy our cut-price iPods now, eh?  Anybody would think there were some new products being added to the virtual shelves...
Remember, SlashGear's liveblog of the Apple iPod event kicks off today at 10AM PST (1PM New York; 6PM London) at http://live.slashgear.com/.  We'll be bringing you all the news, as it happens, and doing it with our nifty push-notification system that requires no page refreshes.  See you there!