Apple Store is down: iPod price cuts on the way?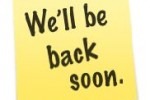 An eagle-eyed SlashGear reader has spotted that the Apple Store has been taken down, with the usual "we are busy updating" message pinned up.  The obvious conclusion is that Apple are preparing new products for release, but looking back through the recent rumors it's tough to identify a likely change.
One possibility is a price cut for the iPod range.  Apple reported strong performance in their most recent financial figures, however while they sold 10.2m iPods in the last quarter that was a drop of 7-percent over the same period in 2008.  A price cut might rejuvenate the market, and also be a pre-emptive move to clear stock before new models are announced at the end of this quarter.  You can be sure we'll be keeping an eye on things to see what might be new once the store comes back on line. 
[Thanks Dion!]